The 91st Academy Awards take place on February 24th, 2019. To reflect on the movies released this last "Oscar-year," The Pacific Sentinel staff were asked to write about a notable moviegoing experience they had in 2018. It didn't have to be their favorite movie of the year—it didn't even have to be a good movie—but it did have to be memorable.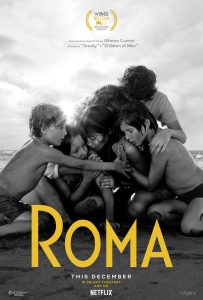 Roma
By Margo Craig
Roma is a semi-autobiographical film written and directed by Alfonso Cuarón (Gravity, Children of Men) about a domestic worker's relationship with an affluent family in Mexico City in the 1970s. This may be the most colorful black and white film I've ever seen. So much is shown in this movie rather than told, as if you were a child witnessing this world—a delectable, textural experience—piecing the story together with the context you're given. The scenes flow like water and often play out through panoramic shots. The visual and auditory imagery lure attention to the overlooked things in life, but also gently weave heavy social concepts into the undertow of the narrative. Considering the story elements, maybe it is no mistake that black and white emphasizes color after all.
I overheard a conversation about Roma while at a coffee shop. One barista told another barista that she tried to watch it on Netflix, but fell asleep. "The 20 minutes I remember I really liked!" There is a lulling, meditative quality to this drama. It's better suited for the big screen. Luckily, you can catch it at Hollywood Theatre.
Roma is sweeping awards. It's won three Critical Choice Awards (Best Foreign Film, Best Picture and Best Cinematography); two Golden Globe Awards (Best Director and Best Cinematography). It's in the running for 10 Oscars, including Best Picture; Yalitza Aparicio was nominated for best actress.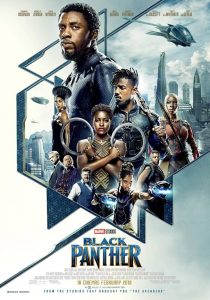 Black Panther
By Jake Johnson
The months leading up to the release of Black Panther felt exciting in a heart-overflowing kind of way. A Black superhero in a movie with a very Black cast. Literary powerhouses Roxane Gay and Ta-Nehisi Coates were writers of the franchise's comics. It was empowering — a Marvel movie where Black kids could see characters that looked like them being heros. A movie where Black girls could see themselves being both powerful warriors and brilliant, inventive scientists. There were movements to help sponsor Black children to make sure they could go see the movie. Stories about classes of predominantly Black kids around the country taking field trips to see it. The feeling it was important to buy tickets for opening weekend to try to tell the biz that this is a movie that we want to see more of.
I went to Detroit in August. We went downtown. We saw the Shepard Fairey mural. As we were walking down the street, a swarm of dirt bikes started flying past. Police officers shook their heads as the dozens of predominantly Black riders weaved in and out of traffic. Yeah it's a little dangerous, but it looked like freedom. Maggie Master wrote about Baltimore's dirtbikers for the Baltimore Sun: "In a city where so many black citizens feel disenfranchised by those in power, dirt bike culture offers more than just a pastime; it is a powerful act of resistance." We got to a downtown plaza and hundreds of Black families were watching a movie in the park. They were watching Black Panther. It was a really beautiful summer evening.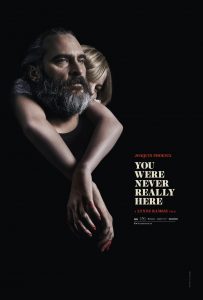 You Were Never Really Here
by Shane Johnson
In a year of many gorgeous, highly unique films (from Roma and The Favourite to Into The Spiderverse and Sorry To Bother You), I can't say You Were Never Really Here was my favorite film of the year. But it was undoubtedly the most memorable, affecting experience I had sitting in a movie theater in 2018.
Joaquin Phoenix plays a PTSD-ridden hired gun who is discreetly employed rescue the daughter of a state senator from sex trafficking. It is heavy material and the film treats it with respect without shying away from the effect it has on the characters. The film begins as an intense, somewhat predictable thriller, and about half an hour into its runtime goes completely off-the-rails, leaving the audience without a moment to breathe.
Phoenix is a wonderfully physical actor, silently conveying much of his character's heavy burden through his facial expressions alone. Lynne Ramsey's direction and script are sharp and powerful. You Were Never Really Here is very much a "show-don't-tell" film, with Ramsey's steady, beautiful camera work keeping the film grounded, aside from a few well-chosen moments of surrealism that heighten the drama.
Fresh of the glorious achievement of his primarily string-based score for Phantom Thread, Johnny Greenwood's electronic score is wobbling and disorienting, but the film's most notable aural achievement is its sound design. The cacophony of sounds that inhabit New York City's urban landscape feel as claustrophobic to the viewer as they do to Phoenix's character. We feel the effects of his PTSD with him, alongside occasionally catching brief, unexplained glimpses into his past traumas.
When the credits rolled, my friend Sydney's immediate reaction was, "That was awful." Not because it was a bad film, but because it was so effective at communicating its point. The movie engulfs you. We realized we couldn't think of another time we had cried after a movie, over the events of a film. You feel for the characters. Why did any of this have to happen to them? Why must it happen to anyone? Why is cruelty and abuse of power so unrelenting, in real life?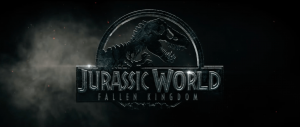 Jurassic World: Fallen Kingdom
(Another reminder to just watch Jurassic Park)
By Daniel J. Nickolas
Fallen Kingdom? More like fallen franchise. The film's biggest problem is how it treats Jeff Goldblum like that useless bushel of parsley on a steak dinner (Goldblum should always be, at bare minimum, the side of mashed potatoes). Additionally problematic is that this latest installment doesn't work for its thrills. The characters are one-dimensional to the point that I'm never sure I care about them (though actress Isabella Sermon, who plays the little girl, does surprisingly well with what she's given). Because of this lack of dimension, and lack of care for the characters, there is no genuine sense of danger; there are one or two suspenseful moments, but those moments are castrated by the viewers' assuredness that the "good guys" will absolutely survive this. Furthermore, whenever the movie wants to be suspenseful, it just relentlessly throws everything at the wall, hoping that it can distract the viewer from its overall boring execution. Volcano + the stampede scene from Jurassic Park + the bubble car scene from Jurassic World + the cliff scene from The Lost World = excitement, right? No. And that's another problem. The first half of this film borrows way too heavily from previous installments, before doing a complete 180 and becoming a haunted house movie in the second half—though honestly, I didn't hate the haunted house feel of the second half. If nothing else, it was different.
All and all, J.W.F.K. has nice special effects, but that's about it. The film already isn't great, but standing in the shadow of Jurassic Park, one of the greatest blockbusters of all time, it looks even worse. And for those of you wondering, and I know some of you are: no, Chris Pratt isn't cute enough to save this movie. When it comes to high-budget dinosaur films that ask existential questions about humanity's relationship with science, Jurassic Park has reigned for 26 years, and will likely reign 65 million more.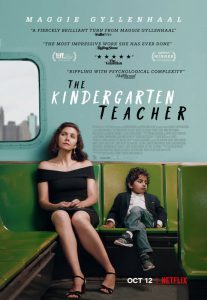 The Kindergarten Teacher
By Zell Thomas
A remake of an Israeli film by Sara Colangelo with one of my favorite actresses, Maggie Gyllenhaal, The Kindergarten Teacher definitely stands out as one of the most evocative films from 2018. That is in regards to its overall treatment of the transcendence of words. At the heart of the film is a middle-aged kindergarten teacher named Lisa Spinelli who strikes us as a nurturing and compassionate mother. With a husband and two teenage kids, her life seems to be rather simple and uninvolved.
I recommend this film because it forces us to see how beautiful and pure children are. In their form, they represent a sort of potential energy that Lisa Spinelli can't resist. So much so, that the line between student and teacher here is transversed.
One of my favorite moments in the film is when the young child stares through a hotel window with Lisa his teacher at his side. Lisa says, as they stare deeply out the window into a landscape very similar to the ones we have here in Oregon, "It's beautiful, so different than home." In response, Jimmy replies with such sensitiveness, "It's beautiful, and sad looking too," to which Lisa says, "The sadness never goes away. Van Gogh said that before he died."
Check out the film! You will recognize a few actors like Gael Garcia Bernal from The Science of Sleep and Michael Churny from the Amazon series The Patriot.