The novel coronavirus known as SARS-CoV-2 has continued to spread nationwide, with statewide shelter-in-place orders standing in 42 states. According to the Centers for Disease Control and Prevention, as of April 22, the number of coronavirus cases identified in the United States has leapt to 828,441. Of those cases identified, 46,379 patients have died. The Oregon Health Authority has identified 2,127 cases as of April 23, of whom 83 have died. The highest concentrations of identified coronavirus cases in Oregon have been in Multnomah, Clackamas, Washington, and Marion Counties. As of April 22, the United States has experienced the highest number of infections and deaths from the coronavirus worldwide. 
Governor Kate Brown's "Stay Home, Save Lives" executive order remains in effect. This includes a prohibition on large gatherings, a requirement that retail businesses continuing to operate must maintain social distancing policies, and a Class C misdemeanor penalty for violation of the executive order. In addition, the prohibition on dine-in restaurants, bars, and similar venues continues to be in force. Brown has also extended her previous ceasing of in-person operations at K–12 and post-secondary schools until the end of the academic year. On April 23, Brown announced that non-urgent medical procedures will be able to resume as of May 1 "as long as they can demonstrate they have met new requirements for COVID-19 safety and preparedness." To meet the new requirements, medical facilities must demonstrate the ability to minimize the risk of coronavirus transmission, maintain adequate hospital capacity in the event of a coronavirus surge, and support their healthcare staff to safely resume activities. 
On April 13, California, Oregon, and Washington announced the "Western States Pact," an agreement between the states that they would reopen based on health outcomes rather than political pressure. The following day, Brown issued basic guidelines on reopening Oregon following the coronavirus pandemic. These guidelines include assertions that the State of Oregon will adhere to scientific guidance before reopening its economy to normal operations. In her presentation, Brown outlined three prerequisites for the reopening process to begin: a slowing of coronavirus contagion, the acquisition of sufficient personal protective equipment, including masks and gloves, and the establishment of a "robust public health framework to support the reopening effort." Brown described the components of a robust public health framework as an increased testing capacity in all regions of the state, a system for tracing those who have come into contact with anyone who has tested positive for coronavirus, and "an effective quarantine and isolation program for people who test positive." No details on the development of these prerequisites to reopening Oregon's economy were provided.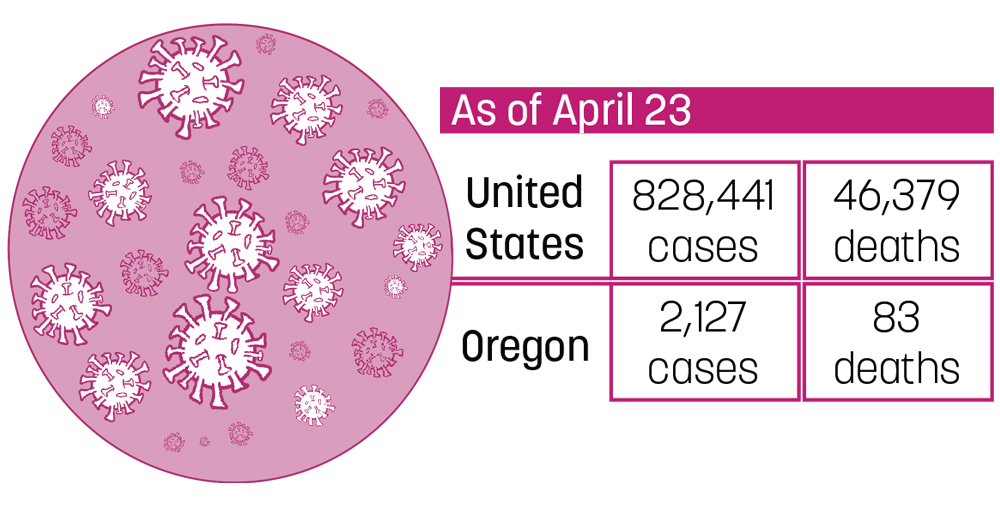 images by Haley Riley
Since the coronavirus outbreak began, Oregon and the federal government have developed a series of relief efforts to minimize the economic harm caused by the pandemic. Chief among these initiatives is the CARES Act, an economic relief package valued over $2 trillion. The act, which has
come under scrutiny for its tax provisions benefiting the very wealthy, includes stimulus checks valued up to $1,200 for individuals and additional payments for families with dependents. Those who can be claimed as dependents do not qualify for stimulus checks. 
In Oregon, unemployment benefits have been expanded in conjunction with the CARES Act to include a $600 supplemental payment for those unable to work due to coronavirus related layoffs or business closures and those receiving normal unemployment benefits. The State of Oregon
has also announced that temporary unemployment benefits will be made available to self-employed and "gig" economy workers, including the additional $600 per week supplement from the CARES Act. As of April 23, however, the application pathway for self-employed persons has not yet been made available. 
Portland State University has responded to the threat of coronavirus by adhering to Oregon's mandate to cease in-person educational and non-essential activities until at least June 13. The university had previously announced that the summer term would be hosted remotely. At a press conference on April 17, President Stephen Percy also indicated that the university is preparing to host the coming fall term remotely if the need persists. In the same conference, Percy noted that on-campus housing is at approximately 40% occupancy and students in residence have been distanced to better protect against coronavirus transmission. The university has also expanded a previously issued hiring freeze due to the pressures applied by lower enrollment and the coronavirus pandemic. Percy claims that the "augmented strategic hiring freeze" does not affect student positions, but for faculty and staff positions, "we will review every position and we're going to be very careful about filling positions."