On any given Wednesday in the South Park Blocks, someone may offer you a sandwich. "Some people will say, 'Oh, I'm not homeless,'" Kathleen Ugelstead explained with a chuckle one sunny autumn afternoon, a few feet away from the Abraham Lincoln statue in the Park Blocks. "I say, 'I don't care—are you hungry?'" Ugelstead and Brenda Mikota, wore orange safety vests as they offered passersby a sandwich from their wagon. Ugelstead and Mikota are volunteers with The Sandwich Ministry.
The Sandwich Ministry meets every Wednesday at 12:30 PM at the First Christian Church on 1314 SW Park Avenue, just a few blocks away from Smith Memorial Student Union.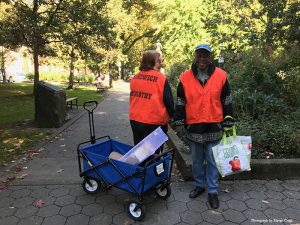 They make about 300 sandwiches to pass out to folks in the downtown area. Volunteers can be found toting sandwiches through in the South Park Blocks, in front of the City Hall, around or near Pioneer Square and the Multnomah County Central Library.
The sandwiches are for anyone who wants one. Each sandwich is wrapped and sealed with a sticker that reads "You are loved." 
Every Wednesday, rain or shine, groups affiliated with The Sandwich Ministry go around downtown Portland with wagons full of sandwiches: turkey, peanut butter and jelly, ham and cheese. They also hand out socks, gloves, and hygiene kits. Since the operation began, The Sandwich Ministry has missed only one Wednesday due to bad weather. The Sandwich Ministry has a reputation for being dependable which fosters its relationship with the community.
Duane Hesketh started the Sandwich Ministry 8 years ago. Hesketh was inspired to start the Sandwich Ministry when services at nearby churches were discontinued, and he took matters into his own hands to continue helping the community. 
Offering someone a sandwich may seem like a simple gesture, but Hasketh says some regulars eat them every Wednesday afternoon. Furthermore, the exchange isn't just about sandwiches. As Pastor Bruce Arnold, head of the non-profit organization Home PDX, puts it, "I quickly discovered the conversation is worth more than the food is." Arnold said he has been doing similar outreach work since he was in college. "I very quickly figured out: it's about 'you're a human being, I'm a human being.' We can talk. Not, 'I'm here to help you and I have food!' It changes the whole approach."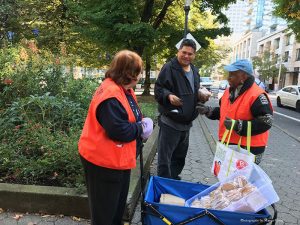 The Sandwich Ministry always accepts new volunteers whether they are affiliated with the church or not. Ugelstead says the church is "open and affirming," noting their community-service activities. "We welcome everybody," Brenda added. According to Hesketh, about half the volunteers are affiliated with the church's religious activity, and many volunteers come in weekly.
People interested in volunteering with the Sandwich Ministry can go to the First Christian Church at 12:30 PM on Wednesdays.