The PSU Artists of Color Collective is a relatively new fixture at Portland State University. The group formed last year, but they haven't wasted any time. In their first year, they've held their own group shows at the Sugar Cube and Littman galleries. They are ambitious and they don't plan on stopping.
The PSU Artists of Color Collective aims to create a space for artists of color whose practices are across all disciplines—visual art, music, film, literature, design, sound, video, social practice, etc.—to be able to come together, inspire, and learn from one another.
Ralph Pugay is the Interim James DePreist Visiting Professor in PSU's School of Art and Design. The James DePreist Visiting Professorship position is meant to create initiatives and advocate for underrepresented students within the department. When Safiyah Maurice came to Pugay with the idea to form the group during one of the classes she had with him, it clicked. Pugay felt like, "Oh yeah, that totally makes sense. I want to support this."
Pugay is a graduate of PSU for both his BA and MFA degrees. In the past Pugay had been involved in some of the initiatives from past James DePreist Visiting Professors. Some of the other initiatives of the previous professors who held the role had involved forming clubs and so that was already something Pugay had been interested in.
"I was really interested in what Safiyah was envisioning, and wanted to support it. So it just developed from there."
Pugay said that his education has "for the most part, been very located in a Western canon type of conversation of what art is. And so I feel like I haven't really asked questions around what it means to be an artist of color myself."
Pugay felt like this would be useful for not only students, but professors and everyone in the community. Pugay said that it's important for people who feel like they're marginalized to have a place to go where they can feel understood. "I didn't really realize how important that was until being a part of this group."
Pugay was really interested in the way the group was really interested in getting together to have conversations about art with each other. PSU has many different initiatives to support recruitment of people from multicultural backgrounds. "But then, what are we doing to support them and make sure that they thrive here. I feel like this group has really been good in terms of just having a space to feel like 'I can be myself. I have a place where I can express my concerns without feeling like I'm in a space that's not mine.'"
"The Artists of Color Collective have been so active in terms of just doing things that serve their intention very well," Pugay said. "I'm just happy to be part of it and witness it basically. And see what they do, because it feels like it's a real community. Through their activity a lot of conversations for faculty have happened around diversity and now there's a faculty coalition around diversity issues and equity issues."
Pugay said the School of Art and Design's Director Lis Charman is very determined to make these conversations a priority because she understands that students have some dissatisfaction in seeking support in this area.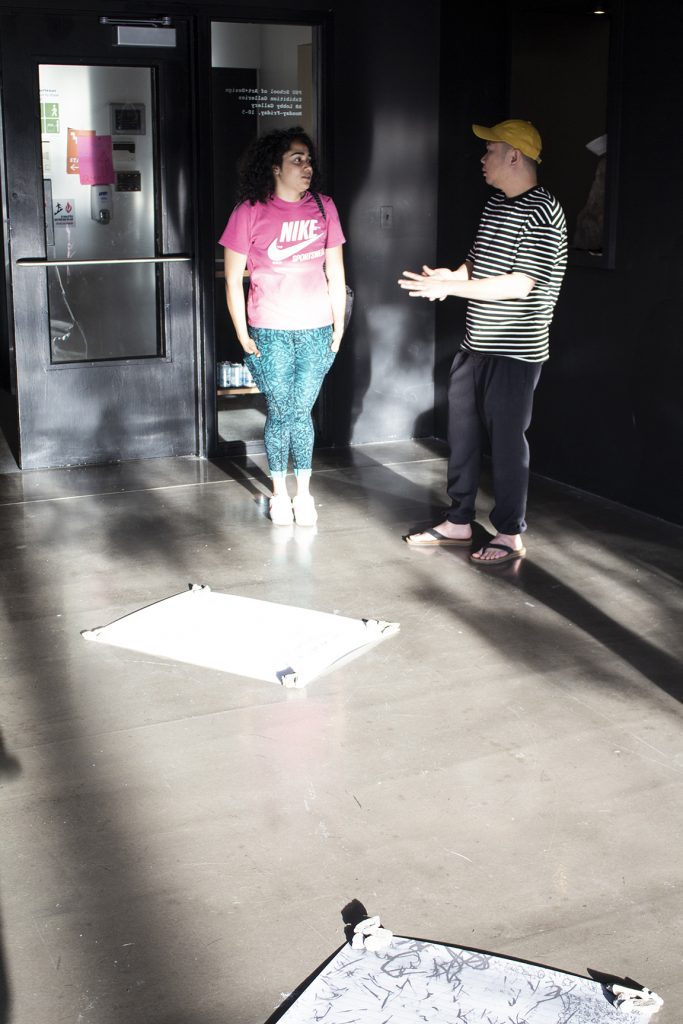 Chatting with the PSU Artists of Color Collective
I spoke with some of the group's members at the opening reception for manuel arturo abreu's exhibition, Beneath the music from a farther room, in PSU's AB Lobby gallery.
"I was taking black studies classes, I got really confident and empowered. I was like, 'we need a group, some type of support system with the BFA.' Because I am the only Black woman in the program. Community is so important for POC artists, because white people are…I don't have the words for it."
"Ignorant" Stoner suggested.
"Yeah," Maurice said. They laughed. "When we're divided it's harder to find a voice. And I think that we found a voice by coming together."
Maurice communicated with Tim Tran and Vinh Pham, "Our first planning sesh was super like, 'We're gonna destroy white supremacy!" Maurice said. "It was really grand." Maurice laughed.
"It was really ambitious," Pham said.
"Super grand, and super ambitious," Maurice agreed.
"And super radical too," Tran added.
"Which it still is, it's just in different ways," Maurice said.
I asked if they were able to destroy white supremacy, they said that they've been able to get a lot of visibility around campus this past year.
"I think we're commenting on white supremacy a lot," Tran said. "I don't think you can fully destroy it. But you can try. One white cube at a time." Referencing the white walls of the traditional gallery.
One major part of creating space for artists of color centers around creating a space where Artists of Color are free to just make art without having to explain racial experience or racial insensitivity to their peers.
Maya Stoner talked about an experience she had. "It was an art class and I was the only person of color in it." Stoner said. "We were all talking about this really famous performance artist and I mentioned something horrifically racist they had said. Everyone in the class was like, 'I would have to hear the rest of what they were saying and get the context before I make any judgement on this.' Basically everyone in the class was saying that this was not racist. And it just filled my body with discomfort and rage. I mean the thing the artist had said was 'Indigenous people in Australia look like dinosaurs.' [That artist is Marina Abramović] All this horrible stuff, and it was so blatant, and I was made to feel so alienated just for bringing that up."
"Like you're wrong," Maurice said. "Like you're crazy. Like you're not seeing it right. Even though [She laughs] It's the worst feeling."
"And then you're like, 'Do I wanna speak up again?'" Stoner said.
"But when you have united voices," Maurice said. "white people are afraid to talk back. To say you're wrong. That's something we want to keep pushing."
"Coming together…amplifies our voice," Tran said.
"The times that we've had white people at our Artists of Color meetings they're mostly listening too," Pham said. "Which has been really nice, being able to be the voices of our own collective."
Maurice said they need white people to come as allies. "People who will come and help us prosper. Help us rise above. Because we do need white people. We do need them, some of them, not all of them, the good ones."
"Also people that are wanting to educate themselves," Tran said. "People that are gonna be quiet, and will learn and listen."
"It's super unfortunate but it seems like white people's voices resonate with white people so much louder than People of Color's voices," Pham said. "So having allies on our side to be able to connect with those people is beneficial for us in the long run."
The increased visibility the collective and the narratives discussed through their work have made some people uncomfortable. During PSU Artists of Color Collective's exhibition, (US), at the Littman Gallery in April they "got a response in the gallery notebook, someone thought that we were being trite and ideological," Pham recalls. "The fact that they were trying to fight us on it means that we were successful in a way."
Pham said that the visibility has given them a platform to try and help inspire other people to build communities for other people. As a result of their platform they were able to talk to students in CORE classes about "our community and trying to build it as a group. And I think that's beneficial for them to see that at the beginning of their student careers so they can build that for themselves too."
"Coming together, we're better together," Maurice said. "We're getting way more opportunities together, and that's what it's about."
"We're giving each other space," Stoner said. "When we're together, it's like you can breathe easier; and when you can breathe easier, you can grow. It's allowed me to explore stuff in my own art I probably wouldn't have been able to if I didn't have some sort of community."
"Totally," Pham said. "There's a time and space we get to explore things that we wouldn't in normal class settings."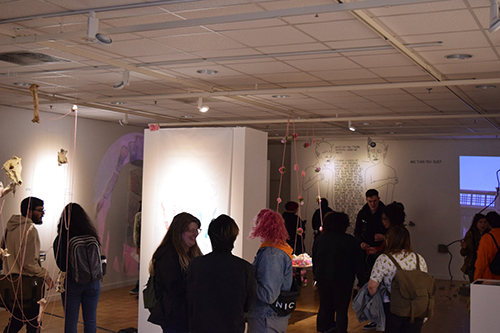 Stoner is an Okinawan-American artist and recently displayed an installation work in Us that explored the legacy of discrimination, oppression, erasure, and disregard of the Indigenous Okinawan people by the Japanese and American governments. "It's something that I've been researching and keeping up in the news on for years, but I felt like I could never talk to people about it, because I felt like no one cared. And that was really frustrating and kind of a sad feeling, to keep that inside, something I care so much about. Taking the class Art and Privilege and then being invited to participate in the group show with the Artists of Color Collective just gave me the space to do it; And let me give myself permission to speak about it."
"Just having conversations with Safiyah and Tim and the group I'm able to unpack so much more about my family and heritage by talking to people who come from a similar framework with parents of color in the U.S." Pham said. "There are a lot of things that we have similar histories that we're not able to communicate to white people generally. Sometimes we talk about how it really shows that some people haven't had to change who they appear as in order to survive. Like, adapt their what personality is in order to blend in, that's been a big thing that I've been unpacking through this collective as well."
"I think it just allows you the space to really be…" Jordan Shelby said. "Because in art classes especially, during critiques you have to go in with the knowledge that you're going to have to explain your work, and your being, to someone else. Whereas with this, you can state your purpose and state what your piece is about and people immediately understand it. And yeah, there are things that you might have to digest and break down of, like, this was specific to my experience. But as a whole you go in feeling comforted that you don't have to code switch. That you can just exist as an artist, and an artist of color. And you really are just an artist in this space, rather than the artist of color."
"Also being able to relate, just relate to each others experiences." Maurice said. "It's made my work a lot stronger. And then also, confidence. Like, I have way more confidence than I did last year to talk about things. It probably still doesn't show, but, I feel better."
Most of the current members of the PSU Artists of Color Collective are set to graduate soon, in Spring and Summer, which could make continuing the groups presence and space they've carved out for themselves difficult.
Maurice isn't set to graduate until Winter 2020, and plans to "be here to carry the torch until then."
Regardless of their presence on campus, the group has plans to continue the community they've built after they graduate.
"We are going to stay together, outside of PSU, because we have a show in September," Maurice said, and then invited Shelby to participate in that show.
"Yay! I am here for it!" Shelby responded.
"I think we're trying to plan a community," Maurice said. "I honestly think we should get as many artists of color in it as possible."
"Yeah, I think this has been a real jumping off point, for creating a collective voice in Portland, not just at PSU," Pham said. "We have plans for a show and potentially running a gallery together."
"We have a lot of ideas in our back pockets," Tran said.
"It's going to go so much further than PSU," Pham said.
Something that Maurice has been thinking about in trying to create space is that the, "the school of art and design, they a need a space for POC, not just in Smith, here, like, space, open space, just for POC and that's what I'm gonna advocate for until I leave."
Shelby added on to that sentiment, "I think PSU especially is good at, especially in the art department and the College of The Arts, is keeping us all very separated. Because, I have a lot of friends who are in graphic design, who are in architecture, who are in the music program, that I never see because our buildings are split up. In the business program, you have one central building that you all take classes in. And that's the same for every other, like, essentially school. And for us, we don't even have a common place where we can go and sit, we have the studios but, typically it's BFA and you don't really want to interrupt their flow. So it's really about creating a space for students and making it primarily a priority for students of color."
"I feel like, when you get, like, one other person of color, it's the first day of class 'Oh, I'm gonna sit by her!' You're so happy. So to have a group like this…" Stoner said.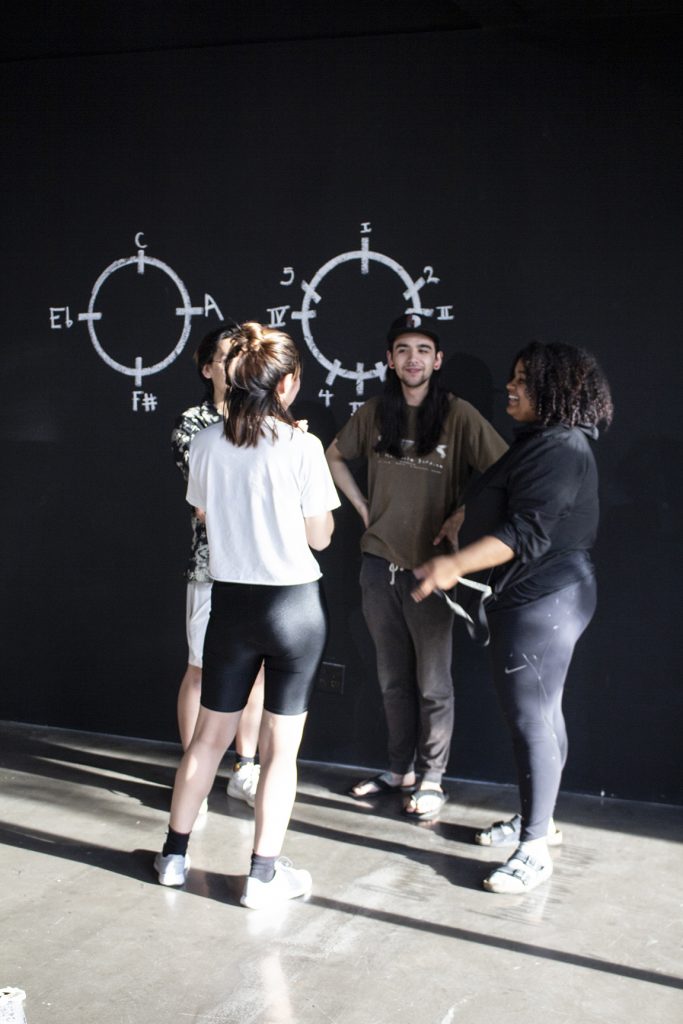 Lisa Jarrett is an Assistant Professor of Community and Context Arts at PSU who has also worked with the group. A few years ago a similar group focused on the needs of artists of color formed called Interaction. "And then an interesting thing happened: all of the students graduated and there wasn't a way to pass down the legacy of that intention."
Jarrett recounted how Maurice had worked closely with Pugay and "brought together some students that had expressed similar interests in needing community and spaces and ways to think and work that were specific to their interests as artists of color. Safiyah really took the lead on that with some other key wonderful students," Jarrett said. "So there's really been a core group of students that have really identified a need for the space for themselves and then maintained it. And they're all interestingly, again, fourth year students getting ready to graduate. I'm really hoping they're presence, because they really have had such a really strong presence this year for students makes it more of a legacy project where younger students sort of take up the reins and continue it, or modify it according to what they really need."
"It's sort of really wonderful to hear how many things they wanna do," Jarrett said. "How many possibilities there are and how exciting that is, to hear people like 'Oh, we wanna do this we wanna, what if we, what if, what if, what if? So, there's no shortage of desire, and there's no shortage of ideas."
Jarrett remembers a couple students who joined the group after a visiting artist lecture where an announcement was made about the group that the student may not have joined if they hadn't heard about it there.
Jarrett thinks that one of the best part of the group is that it shows "the desire to be more visible, and to show how substantial the contributions are of students of color within a community where we're often not the majority demographic."
If students are in their first, second, third, or getting ready to be in their fourth year, Jarrett said she encourages them to "if this sounds like something that's interesting to you, to please reach out. I think the idea of having more community among your peer group is really important for artists and I think it's really hard to find each other sometimes. So even if it's something you're not sure you want to commit to, you could always just come and hang out and see what it's like and meet some people."
"I just would really love to see it become a thriving thing," Jarrett said. "That maybe there was more than one artists of color collective, and maybe there were ample opportunities, and multiple ways in which we saw these ideas engage directly. So that the need for it would be less about 'oh you know, there isn't anything like this and now it's here and so we have something.' Instead there could be enough variety that people could really start to think about what is interesting to them and how they can make bigger connections beyond school—because school is about after school in a lot of ways."
Maurice said that the group's ability to give each other opportunities is important, "So you can succeed outside of school, because that's the goal; which they don't communicate here. We're taking professional practices, and it's all very individualized—which, I don't believe in that at all."
"We were talking about a community, and a community kind of turns into a family," Shelby said. "Where, like, I could move to New York and I can always come back and know that this is here. And so it's always like, nothing kind of changes, but everything does change."
"We hope that we can inspire more people to communicate what they need," Maurice said.
"It's really about empowering our fellow cohort," Shelby said. "Even asking for what they need, I don't feel like my voice is being valued in communicating that to either faculty or to other students. So it's really a form of empowering other people to empower other people."
"And also just, like, listening to each other," Tran added. "Amplifying each other's voices, but then showing that someone does care, and that we do exist."
"And then finding friendship within that too," Maurice said. "Especially POC friends." She laughs.
The art world, Portland, and PSU has a long way to go to become truly equitable for people of color. Finding community and supporting one another are important. When the group formed I thought it was nice that artists of color were making space for themselves to meet up. Then they started to put on shows. Safiyah Maurice has created a powerful group on campus who will go on to do great things in the art world, and she wants you to be a part of it.
PSU Artists of Color Collective has a show scheduled for the beginning of fall term that you should watch out for, if it is anything like the work they've done in the past, you won't want to miss it.
For more information about their show in fall and other things the group is up to you can follow them on instagram at psuartistsofcolorcollective.