Sleep deprivation is a global risk to individual health and economic prosperity, according to RAND, a research agency and public policy think tank based in California. According to a 2016 report, sleep deprivation in the United States is responsible for over $400 billion in annual economic loss from absent and exhausted workers. Symptoms of sleep deprivation include drowsiness, difficulty concentrating, impaired memory, impaired immune-system response, and physical fatigue. Advanced sleep deprivation may also increase the risk of developing mental illness, hallucinations, and severe mood swings.
The CDC recommends a minimum of 7 hours of sleep per day for healthy brain function in adults, but during an interview with The Pacific Sentinel Dr. Bill Griesar—senior instructor at Portland State University and Neuroscience Coordinator of Northwest Neuroscience Outreach Group Growing in Networks (NW NOGGIN)—added that adolescents, including college-aged youth, require approximately 8–9 hours of nightly sleep to remain healthy. An estimated 60% of students and 35% of American adults across all demographics fail to meet either standard. Sleep deprivation is of particularly dire concern for the estimated 10–14% of university students who experience homelessness and up to 48% who experience some form of housing insecurity according to a 2019 survey released by The Hope Center.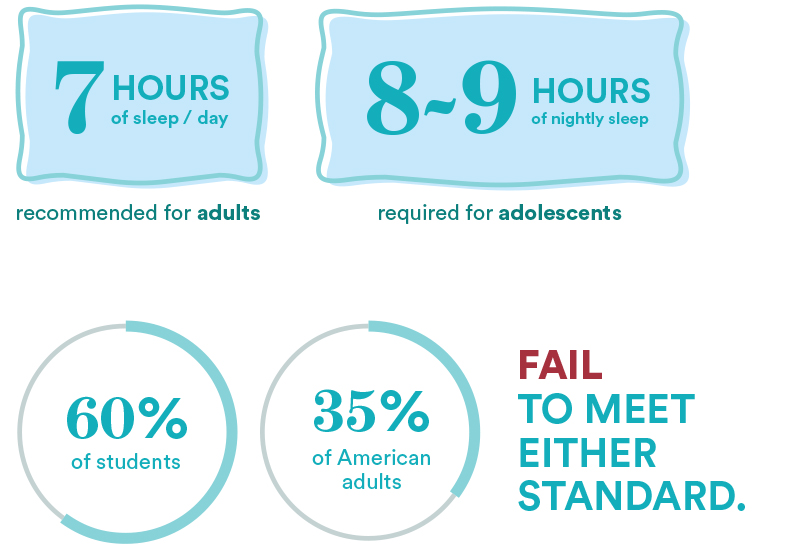 Infographic by Elisa Hung
The 2016 report from RAND implicated stress caused by "lifestyle factors related to a modern 24/7 society, such as psychosocial stress, alcohol consumption, smoking, lack of physical activity and excessive electronic media use" as the cause of increasing rates of sleep deprivation. "From a research and biological perspective there are some certain basics that we should be providing, and then I think we would be astonished at all the amazing things that people are capable of doing," noted Griesar. Continuing, Griesar considers meeting basic needs critical for sleep and brain health. "Access to safe and secure housing is certainly a significant issue," noted Griesar, whose role in NW NOGGIN involves working with disadvantaged and often unhoused youth. Griesar continued to implicate that economic challenges facing young people, including limited access to healthy diets and the stress caused by financial hardship, are key cultural factors in rates of sleep deprivation in the general population. 
Dr. Griesar asserts that cultural factors are also responsible for inaction on endemic poor sleep in the United States; "There's a cultural sense of 'I did it, you can do it,'" elaborating that resistance to systemic changes that could benefit the entire population can be withheld out of perceived unfairness to generations past. Likewise, Griesar implicated a cultural equation of sleep with laziness, introducing shame into the pursuit of a basic need. Questioned about solutions, Dr. Griesar added, "evidence-based research should actually inform better public policy…we have information, we should be applying it."
Of the evidence-based solutions recommended by Griesar and other academics concerned with the health impacts of sleep, Griesar indicated access to resources and later class start times as essential to mitigating sleep deprivation on college campuses. A study conducted among secondary-school students in Seattle, dubbed "Sleepless No More in Seattle," produced compelling results indicating that later class start times led to improvements in mental health, attention span, lower anxiety, and even fewer lives lost to suicide and traffic accidents. Griesar stressed the need to "recognize that there's a biological basis for a lot of this," using discord between the natural biological sleep patterns of adolescents and early class start times to demonstrate that societal norms are not always the healthiest strategies for the brain. 
Dr. Griesar offers practical advice for anyone struggling to get enough sleep. "Don't always consider sleep as one long-term, unbroken period," advised Griesar over a discussion about international sleep standards—particularly the "siesta" of Spain and their former colonies. Spain, despite short overnight sleep patterns, reports relatively high total minutes of daily sleep and higher quality of rest due to the cultural habit of sleeping during the day. This healthy habit, however, is under threat from businesses wanting to accommodate international workdays by denying employees the opportunity to siesta. For those with the luxury of time, even brief periods between classes, Griesar simply advises prioritizing rest. If nothing else, "Take a nap!"
Main image: illustration by Greer Siegel