Additional reporting by Margo Craig
The two Associated Students of Portland State University (ASPSU) presidential candidates, Kyle Leslie-Christy and Violet Gibson, had a debate on Tuesday April 8th in the Smith Memorial Student Union. They answered a broad set of questions about student engagement, free speech on campus, CPSO and campus safety.
The most notable difference between the candidates was on the issue of CPSO armament. Both candidates support CPSO having access to firearms. Leslie-Christy favors campus police officers not carry guns but have access to them in case of an emergency. Gibson favors campus police carrying those firearms.
Questions about armed campus security invigorated the debate as the issue remains hotly contested at PSU. Last summer CPSO shot Jason Washington 17 times outside of Cheerful Tortoise. Washington was breaking up a fight when he was shot. He died on the scene. Since then, the campus has been deadlocked about whether or not guns belong on PSU's campus, and whether or not CPSO should be carrying lethal firearms.
Disarm PSU campaign led by Portland State University Student Union was embraced by ASPSU leadership. ASPSU posted Disarm PSU's list of demands on their office windows that face Broadway for the entire 2018–2019 school year; one of those demands calls for the immediate disarming of CPSO.
ABOUT THE CANDIDATES:
Both candidates currently serve in PSU's student government. Leslie-Christy is the ASPSU student life director, and Gibson serves on the Student Fee Committee (SFC).
Violet Gibson: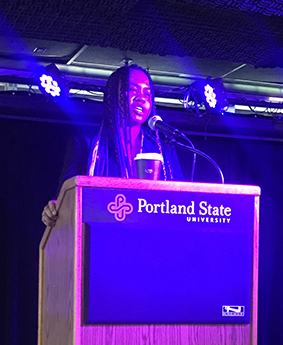 Violet Gibson at the a 2019 ASPSU Presidential Debate. photo by Margo CraigViolet Gibson at the a 2019 ASPSU Presidential Debate. photo by Margo Craig5 years of experience in ASPSU
SFC liaison to campus resource centers for students with children.
"I want to actually give the voices back to the students," Gibson told Vanguard. "And I want to, throughout the year, all the time be asking students 'What do you want? What do you need? What can ASPSU do to represent you better to the [PSU] administration."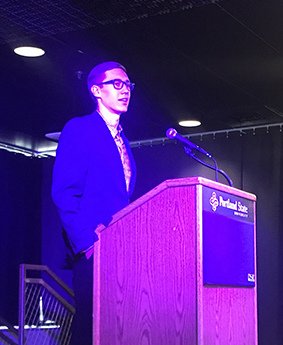 Kyle Leslie-Christy:
ASPSU student life director, chair of the SALP space committee, serves on Student Sustainability and Leadership Counsel, SALP advisory board, and the Campus Recreation Advisory Board.
"I believe that given the right tools, given the right instruction, the right guidelines, and expression, we can do a lot of great things here at PSU, with your help and with our guidance."
The ASPSU presidential election is a particularly important vote since it is the only contested race this election cycle. All students running for the Senate and the Student Fee Committee will be elected by default because the number of candidates are not more than available positions. But for the presidential election, it'll be one or the other: a president in support of or against CPSO carrying guns on campus.
When asked if he supports the armament of campus police, Leslie-Christy responded, "this  is a very complex question with a very complex answer. I think the campus security—all  police officers—should first, before they get a gun, before they get any training for a weapon, they should be trained in confirmation bias. They should be trained in conflict resolution. They should be well-adept in learning how to diffuse a situation before they get trained on how to just—end it," he continued, "I don't think individuals should ever hold that power within themselves."
But Leslie-Christy isn't entirely against arming campus security, noting how common mass school shootings are in this country. "There's been 250 instances where there's been an active shooter on some American campus within the last, like, 10 years, so that is something we have to worry about unfortunately. I think to address that, you should have…some weapons that are stationed around campus that a security officer could potentially go and grab if there was an active shooter."
Ultimately, Leslie-Chrity believes, "for the most part, campus security should not be armed," but should have access to firearms.
Gibson, on the other hand, supports arming campus police at all times. She cited three reasons why.
She referenced a Vanguard article that reported on a poll given to PSU students by Margolis Healy, the outside consulting service that concluded PSU should continue arming CPSO.
"I'm pretty sure the outcome was…about 52% of students felt more comfortable having campus security armed." Gibson said.
However, Gibson misrepresented that poll: 52% of respondents favored disarming CPSO; 37% favored an armed CPSO; and 10% had no opinion. About 4,150 people in the PSU community, including students, faculty and staff, took the poll. Of the 2,279 students responded to the poll, 49% favored disarming, 39% favored armed CPSO, and 11% had no opinion. According to the Margolis Healy report, the entire PSU community is 29,607 people (with 27,670 students).
It is unclear that any other data provided by Vanguard would support Gibson's reference.
Gibson also said she believes the majority of students support arming CPSO based on her own conversations. "I went around and I asked a few students to kind of do my own poll," she said, "and I found out that the majority of those students did prefer to have campus security be armed."
The third reason Gibson cited comes from her experience on the Student Fee Committee. "I'm the liaison for resources for students with children," she said. "They have stated in their advisory board that there is a lot of concerns in terms of having children on campus and not being able to respond fast enough when there is a threat."
Gibson concluded, "I do support campus police being armed."
The moderators then asked Gibson and Leslie-Christy what they would say to students who feel unsafe with armed police.
Gibson replied, "It's our job for the people that do feel unsafe to ensure that they know that CPSO is on our side—and CPSO doesn't want to maliciously go out there and hurt people of color and marginalized communities. And I feel like the best situation for our campus is to honestly put complete trust in CPSO, because they're the ones who are supposed to be protecting us."
Leslie-Christy had a different take, "[Students] have a justified reason for why they would feel unsafe," he said. "You're more likely now to get shot by campus security than an active shooter unfortunately. So the people [police] that [are] here to protect you, you're more likely to get shot [by] if you're a person of color."
He concluded by saying, "In terms of students feeling unsafe, it's hard to put trust in someone that you have justified reasons to not trust. But, if those campus security officers have really tried to involve themselves in the community and put their faces out there—I mean, I've always had positive experiences with CPSO—I would say I trust them. I wouldn't expect anyone else to immediately just trust them for no reason. If they were going to make an initiative to try and be community liaisons and less like security officers, I feel like that would make it easier for individuals to trust them."
Gibson responded, "I feel like it's hard for CPSO to reach out to students when students have expressed that they do have that innate fear of them. When I talk to CPSO, they express that they don't necessarily feel comfortable walking with the students because they don't want them to feel any type of way when they're just going to their classes or they're just on campus."
Gibson disagreed with Leslie-Christy's suggestion that CPSO is distant from the community: "I also believe that CPSO does do a really good job of putting their faces out there," she said. "I always see them walking around campus talking to students, popping in on events, going into the cultural resource center. So they do their best to try to integrate themselves within campus."
There are certainly differences between the two candidates otherwise, in terms of their experience, style, and overall vision. According to Vanguard, Leslie-Christy wants to "engage the the PSU community around issues such as tuition reduction, housing insecurity, and food insecurity." Gibson "wants to give voices back to the students."
But in terms of concrete policy positions, the specifics of CPSO armament stands out as the central point of division between the two candidates running for student body president.
As it stands, there seems to be little resolution in sight. For whoever feels strongly about the issue, here's a chance to speak with your vote.
Some of the specified responsibilities of student body president, per the ASPSU website, include "acting as an official representative of student body internally and externally," and "serving as an early point of contact for administration and external entities."
ASPSU elections will be held until 7 p.m. May 1st. There will be a polling station from 12:00–1:00 p.m. located between the Smith Memorial Student Union and Cramer Hall. 
Students are able to vote by clicking this link or in person at the following locations:
April 29th: Polling Station, Between SMSU and Cramer, 12 p.m.–1 p.m.
April 30th: Live @ Lunch Elections Polling, Park Blocks, 12 p.m.–1 p.m.
May 1st: Polling Station, Between SMSU and Cramer, 12 p.m. – 1 p.m.
May 1st: Polls close at 7 p.m.
May 3rd: Announcement of Election Results, Simon Benson House, 1 p.m.–2 p.m.