On April 9, 2019  The Oregonian reported that PSU chemistry professor Niles E. Lehman, 56, was arrested in February. Lehman was indicted on charges of first- and second-degree encouraging sexual abuse. He is accused of viewing and distributing images of child pornography between October 2017 and September 2018. Public records show that Lehman posted bail in March and that the trial is set for May.
The Oregonian reported PSU confirmed in a statement that Lehman was placed on paid administrative leave. Kenny Ma, PSU Communications Director, declined to specify when Lehman was placed on leave. Lehman has not resigned.
PSU has not sent an official email to the PSU community addressing the matter.
On April 15th, a Monday afternoon, an HR representative of PSU and several university representatives unassociated with the Chemistry Department, along with Dr. Dirk Iwata-Reuyl, Chair of the Chemistry Department, held a discreet meeting in SB1 107 to address the approximately 40 people, presumably associated with the Chemistry Department, that attended.
PSU has not sent an official email to the PSU community addressing the matter.
Dr. Mark Woods, a chemistry professor, lamented the fact that PSU has not formally addressed the matter with the PSU community, telling the HR representative to "send an email tomorrow, and even that will be 6 days late."
One attendee asked, "How are you going to change the communication chain so that we find out about this in a different manner?" The question went unanswered.
Dr. Gwen Shusterman, chemistry professor, commented, "This community needs healing from this."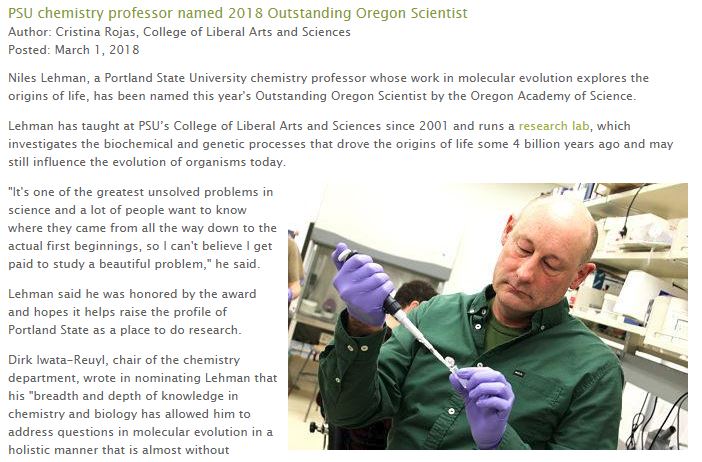 The HR representative sternly discouraged the attendees from asking questions about the case. They said repeatedly that they have limited information and are limited in what they can share, citing Oregon law. As long as they were present, he said, "the meeting is officially on record. How you all talk about this once we leave the room is a separate matter."
Shusterman characterized HR's position on limiting discussion of the matter as "stern." She eventually asked the university representatives to leave: "I politely ask all of you to leave so that the community can discuss this now."
After HR left, Iwata-Reuyl told attendees, "We are here to assure you that Niles Lehman has been off campus and will not be on campus." Iwata-Reuyl declined to answer many questions, citing his "official role in this." One question Iwata-Reuyl declined to answer was whether Lehman is still on medical leave: "We are not allowed to discuss personnel matters by Oregon Law."
Professor Carl C. Wamser said from his seat in the front row, "We need to send our thoughts and prayers for somebody who is hurting and that person is Niles."
Wamser continued, "I've talked to my old student recently," referring to Alexander Rudine, a former PSU doctorate student who was charged with manufacturing, possession and delivery of methamphetamine in 2014 (he reached a plea deal and pled guilty to delivery of meth). "He is out of prison, back with his kids and he has a nice job. People are able to turn their lives around and not be defined by their worst actions."
Iwata-Reuyl added, "There's no way this makes PSU look bad because this is dealing with [Lehman's] personal life, not his professional life."
People in the crowd began to debate whether it is possible to morally separate Lehman's personal life from his profession and speculated the extent to which the nature of the indictment is in fact a professional matter.
Regarding the rules and protocol for an investigation, one attendee asked, "If this is a professional matter, what is the time course and what are you going to do about this?"
Iwata-Reuyl said he was unable to answer the question.
Portland State University has removed Lehman's PDX.edu faculty profile and research lab, Lehman Lab, from its site. Google search is still picking up results for the pages, but when clicked on to navigate to them, the pages cannot be found. Additionally a search result for Niles Lehman on Google Scholar Citations has a similar dead end.
As of 11 p.m. on April 21, 2019, PSU has not emailed its community about the situation.
It is unclear what will happen to the Lehman Lab, however several graduate students that had been conducting research chose to transfer doctorate advisors in the wake of these revelations.