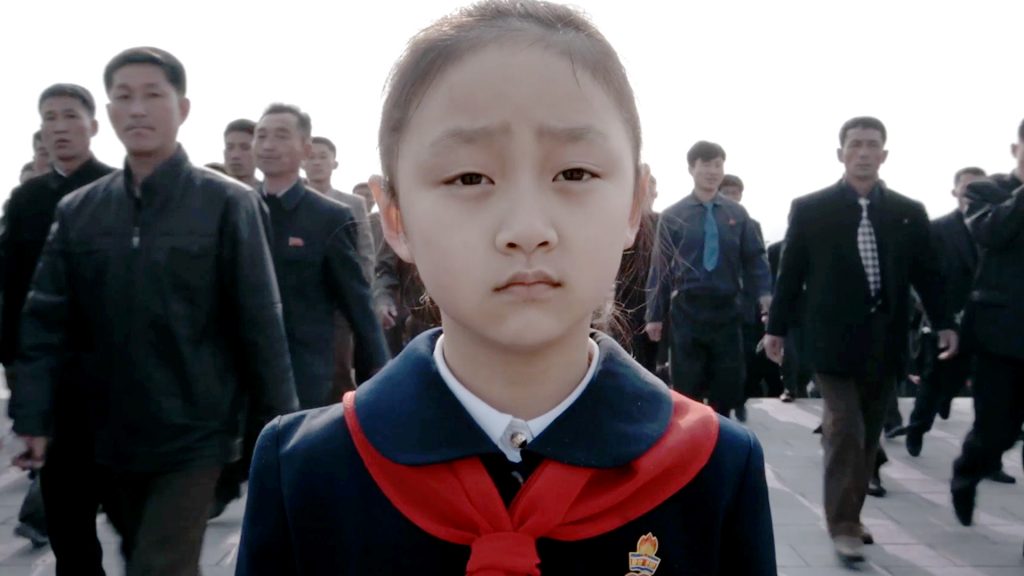 Loudspeakers call all citizens to attention, people flock to gather in an otherwise empty basketball court, and so begins a morning of requisite gymnastics in northern Korea, or as it is properly known, the Democratic People's Republic of Korea (DPRK).
This extremely rare footage was procured by Vitaly Mansky for his most recent documentary, "Under the Sun,"  which focuses on eight-year-old Zin-mi, who is preparing to join the Children's Union, a DPRK nationalist youth group. Zin-mi tells the camera, with a big toothy smile, that according to her father—a garment factory engineer—North Korea is "the most beautiful land under the sun." Her eager endorsement of her country is where the documentary derives its name.
Zin-mi is quite knowledgeable about her country and culture. She excitedly tells her parents, in their meticulously clean and modern apartment, about the health benefits of kimchi (which include curing cancer and preventing age) who both eagerly nod along, praising their daughter's genius. She attends various lectures about the glorious exploits of Kim Il-sung, and the cowardice of Japan and America. She is incredibly proud of the soy milk factory her mother works at for exceeding their quota with such regularity and enthusiasm. Zin-mi will even play a prominent role in the upcoming celebration for "Day of the Shining Star," the nationalist holiday celebrating the dear founder's birth.
One of the glaring problems with Zin-mi's patriotic enthusiasm, however, is that it's all scripted.
Mansky told the DPRK that if he could shoot a documentary film in their reclusive country, he would only film the sanctioned script they provided him, under the strict supervision of "minders," who would also review all the footage he shot. Instead, Mansky kept his cameras running in between takes and kept a second memory card in his cameras. At the end of the day, when he and his team were required to surrender their footage for censor approval, a team member would create a distraction so footage could be copied and stowed before handing over one of the cards.
We learn from titled inserts (Mansky intentionally left out any voiceovers) that Zin-mi's father is actually a print journalist; her mother, a cafeteria worker. Zin-mi repeatedly nods off during lectures, which are repeated and stopped every few minutes at the spurring of a minder calling "stop!" and then commanding, "say it more joyfully, with more enthusiasm, you look like you're acting." In one take, Zin-mi's father's garment factory has exceeded their quota by 150 percent. In the next take, they've exceeded it by 200 percent. The minders tell the factory workers that they need to pay more attention to their comrade when he's congratulating them— oh, and the workers still need to still fill their actual quota, so don't stop working.
Mansky's patient exhibit of repetitious patriotism is juxtaposed harrowingly with footage of day-to-day life in Pyongyang, North Korea's capital city. Children pick through grass to find food while adults march around them; citizens pour out of broken bus after broken bus to push the downed vehicles to their destination. A DPRK police officer whistles at someone in the subway while unbuckling her nightstick before the camera is abruptly shut off.
It should come as no surprise that a film of this nature has sparked controversy during the short amount of time it's been released. The DPRK demanded that Russia, Mansky''s home country, suppress the film and prevent its release. While Russia did not suppress the film, its Ministry of Arts, which partially funded it, did ask Mansky to remove its name from the credits. Mansky did not do this either. The Museum of Modern Art in New York cancelled the film's intended debut due to significant concerns about DPRK retribution. They have since apologized, calling the cancellation "wrong," but the curator who was responsible for the cancellation cited Sony's cyber attack back in 2014, which resulted in the company's withdrawal of "The Interview" from theatrical release, as one of the motivating factors behind the decision. Mansky has noted that he received no complaints from the DPRK until after "Under the Sun" began receiving attention at festivals. Mansky and the DPRK had originally agreed to let him visit, and film, three times. The visits only happened twice, the third visit was cancelled "without explanation."
"Under the Sun" is a heartbreaking film. Zin-mi is reduced to tears at least twice, while minders immediately bark at her to stop crying. Mansky accompanied his footage with morose violin music, adding another layer of tragedy to the already tragic, almost unreal film. DPRK citizens, unaware they are being filmed, are silent. No one speaks to each other, no one looks one another in the eye. This rare view of North Korea is both tragic and surreal, and sticks with the viewer as a haunting glimpse of what life is— or can be—under totalitarian rule.
"Under the Sun" was shown at the NW Film Center on Oct. 12, 2016. It was directed by Vitaly Mansky and stars: Lee Zin-mi, Yu-Yong, Hye-Yong, and Oh-Gyong. "Under the Sun" has not received a content rating from the MPAA. The film is also available for streaming on VuDu.