From Friday to Tuesday, November 15–19, 2019 an enormous inflatable emoji poop sat in Pioneer Square and invited passersby to come inside and "Let that shit go!" Poo~Pourri is a company that caters to people who believe that bathrooms that have been pooped in don't have to smell horrible. 
Upon arriving, attendants in denim jackets with large psychedelic poop patches on the back were helping and hyping up attendees. One attendant was especially talkative as he passed out temporary tattoos, "Show me your shitty tattoo, I'll show you mine," he said as he handed out temporary tiny little blue poop swirl tattoos. "Every poop needs its partner."
A sign instructed us to "Let that poop emoji go. Drop the toxic thought that's weighing you down!" the sign told us that "Poo~Pourri's GIANT POO…pushes out the bad sh*t, makes room for the good sh*t, and leaves you feeling like the sh*t."
For every visitor who went inside the super poop on World Toilet Day, November 19, Poo~Pourri donated $2 to the World Toilet Organization. World Toilet Day and the organization of the same name seek to improve the way people use the bathroom around the world by improving toilet and sanitation conditions. According to the organization's website, poor sanitation sanitation caused diarrhoeal diseases killed 1,000 children per day around the world in 2013.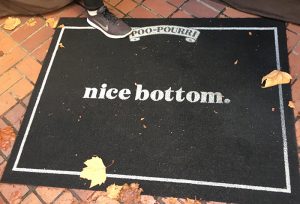 While walking into the poop's hole, a doormat complimented our butts, "nice bottom." it read.
Inside the poop, we sat in brightly colored stalls on that padded lid of a toilet and were immersed in a 360 degree video projection. A lady was projected all around the inside of the poop and reassured us that we were in fact "inside of a giant poo. Not just any Poo! A magical poo that has the power to transform your shit, right here right now. You know, that shit you're holding in, like that self-sabotaging thought that makes you feel less than, or angry, or scared. Think, think of that toxic thought that brings you down, constipates your mind and keeps you from feeling free to show up as the badass that you are"
Negative self-talk floated around behind her. She had us write down some of the mental poop that was weighing us down on a tablet in our stall. After a short while, each of our mental poops flew out of our tablets and were projected like little colored pieces of paper that matched the color of our stalls—fortunately, no one's poop was on display, the color papers were blank. 
The lady instructed us all to, on the count of three, pull the toilet flush handle and asked "are you ready to let it go?" On three, we pulled our handles and watched our toxic thoughts swirl away. At the same time a blast of air hit the back of my head, which was temporarily incredibly gross because I don't want air coming up from a toilet and touching my head. Bursts of colors and patterns exploded from the top of the poop as upbeat music played. 
"Congratulations! You let that shit go! It's gone!" The video lady said. "With Poo~Pourri, letting go can feel, and smell, amazing! Now, here's a trick, every time you hit the loo, use that time to visualize all the crap you want to let go of. Teach others to let their shit go by sharing your experience on social using the hashtag let that poo emoji go. I can't wait to see where you'll go now."
One of the attendants escorted us out of the poop and said they hoped we were feeling lighter. The video lady wouldn't have to wait long, right outside the giant poop people were pretending to go on a platform they had set up for people to take pictures on in front of the giant poop.
What kind of shit is this?
"Our owner is all about transformation, and we transformed the smell of your bathroom with the spray," said corporate Poo~Pourri employee Sandy Phillips. "We want to get rid of toxic thoughts in your brain with this. This is kind of a mental health thing, trying to help you flush away toxic thoughts that you're holding on to, have a better life."
The poop arrived to Portland in time for World Toilet Day. According to the Dallas Observer at its stop in Dallas it celebrated Mental Health Awareness day. However, it is unclear if they are celebrating holidays at each of the stops. 
Pioneer Square is the 4th place the much-larger-than-life poop plopped on its 26-city tour. Phillips said that Portland's poop has had 1,000 visitors every day and said that they have been "interviewed by every news station at least twice. Seriously. It's crazy!"
"Portland has been our biggest stop so far, we've got more people through every day, even in the rain!" said Phillips. She said there are a lot of reasons that have brought people out. "I really think they're coming because they saw it on TV, they saw it on instagram, there's a lot of people hashtaggin' it, so we're getting a lot of response from social media."
Phillips thinks people from a lot of the buildings in the area are coming over and said groups of coworkers are coming to the poop together.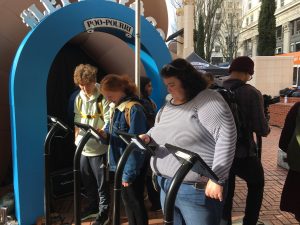 There are 3 people on the travelling corporate Poo~Pourri team who escort the poop. However, workers with Catwalk productions travel with them to man the doors, ipads, and manage the assistants who pass out samples. One of the assistants said they were hired as a brand ambassador and, unfortunately, don't get to keep the denim jacket. The team also hires security guards in each of the cities they stop in. Poo~Pourri brought extra puffy winter coats, long sleep shirts, and touchscreen capable gloves to keep the assistants warm on the tour.
Phillips asserted that funny poop-related pop-ups are nothing new for the Dallas-based company. She said they're often doing small pop-ups in places where people can sit on a toilet and take a picture. 
"We do a lot of funny stuff," Phillips said. "But this is the biggest funny thing we've ever done."
It wasn't the smell that brought people want to peep the poop
Sara Laughlin and Sofie Brandt are PSU students who were taking selfies by the poop. They said they were biking by when they saw it and thought "what is that?" They said they had also heard about it from a PSU post on Instagram. They said it was much bigger than they expected, it's really funny, and "It doesn't smell at all."
Sally, Carol, and Mary work in the area and came prepared with a poop emoji pillow and were laughing while waiting in line to get inside the poop.
My coworker that I just had meeting with, we were talking about we had a shitty situation we were dealing with," Sally said. "and she said, 'Oh, we should go down and get our picture taken at Pioneer Courthouse Square,' and then she whips out from behind her computer, 'and we can take the poop pillow!' And I was like, 'Oh my God, we have to go!' And she was like, 'Oh I can't.'"
So instead she grabbed another coworker and found their other friend walking down the street. All of a sudden, Mary whipped out a poop emoji lollipop they brought as well. Apparently, the lollipop belongs to the coworker who couldn't come along. They said they bring out the poop emoji lollipop and put it on a piece of paper on your desk when having a shitty day as a visual aid.
Despite the shitty situation at work, they were feeling better "because of the poop."
Branden Dale was visiting from Los Angeles and said while walking around downtown Portland he "just saw it. It just looked really interesting so I was like, 'Man, I gotta try it out.'"
"Coming from Los Angeles, Portland has this thing for being weird, and it's cool just seeing this out here, you know?" Dale said. "It's super cool, I love it."
Dale described the experience in the giant poop and said that after he "let that shit go…It felt good, man. It felt really good."