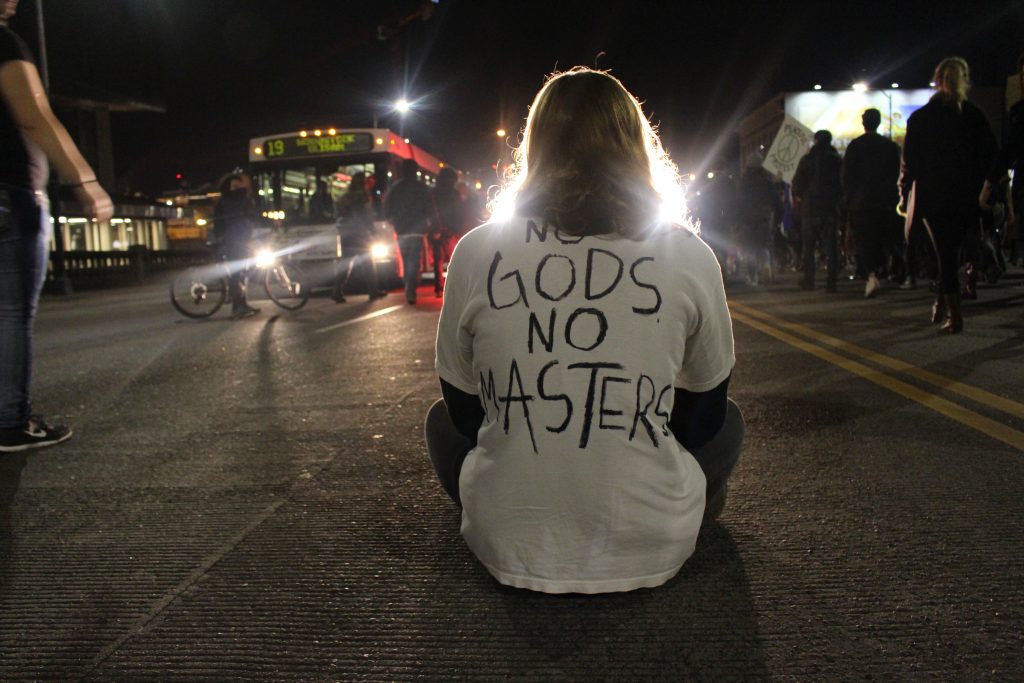 In the month since businessman and reality TV star Donald Trump became president-elect of the United States, thousands across the United States have protested the nomination. From San Francisco to New York, cities are adopting sanctuary policies to protect undocumented people from the threat of deportation posed by a Trump administration. Protesters in Portland have taken to the streets as well – and many are getting organized.
Since the election, over 100 people have been arrested in Portland on accounts related to protesting, according to Fox News. The culmination of protests that took place Thursday, Nov.10, was declared a riot by the Portland Police Bureau.
Part of the gathering that night was organized by Portland's Resistance, an organization started in response to the election. One of the lead organizers, Micah Rhodes, told the The Pacific Sentinel he spent several days at a safe house in response to death threats he received following the five days of protesting that took place downtown.
On Nov. 16, a new student organization, Anyone's Resistance, hosted a walk-out of PSU classes to demand president Wim Wiewel declare PSU a sanctuary campus— a space that will not enforce federal immigration laws.
"After the election, a whole lot of people who were not at all politically engaged wanted to be… we saw that there was a nation-wide call out for campuses to advocate themselves as a Sanctuary Campus, and we noticed that no one from PSU was doing that yet," said PSU student and Anyone's Resistance organizer Scout Zabel.
Hundreds of students joined the walk-out, and marched to the Market Center Building, where Wiewel's office is located. A handful of students, Zaman included, made it to the office  and were able to slip the demands beneath Wiewel's office door.
On Nov. 18, PSU president Wim Wiewel sent an email to students declaring PSU a sanctuary campus. The statement says that Portland State will not participate in immigration enforcement or the sharing of private information about students unless required by law, court order or based off of imminent risk.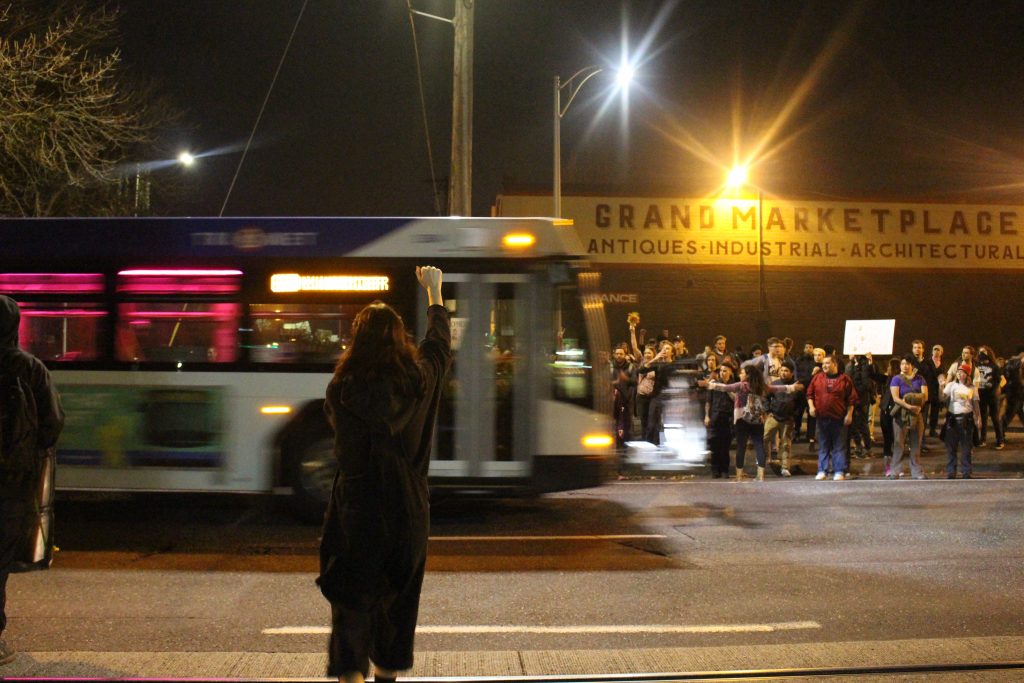 "This was something that the administration could  totally achieve without controversy. We've never had that level of success before, but there's never been that level of pressure for all campuses to do that exact thing," Zabel said.
"I have some reservations with the declaration that Wim sent out. It certainly did declare PSU as a sanctuary campus but some of his wording just seemed a little vague," said Associated Students of PSU (ASPSU) president Liela Tenace. Tenace explicitly expressed concern over Wiewel's wording in the statement, stating, "although we don't know what the future will hold," as well as the fact that the statement only regarded existing policies.
The concept of sanctuary campuses derives from sanctuary cities, which Trump said on Aug. 31, could expect not to receive taxpayer dollars for their refusal to collaborate with federal immigration officers in prosecuting undocumented immigrants.
For universities, some worry this could mean loss of federal student loans or research grants.  "Under the law, if that money was withheld, there would have to be a change in the research protocol which would have to go through congress. It's not going to happen with the stroke of a pen," said University Communications director Chris Broderick.
Portland State students have also become mobilized in broader city protests. The sudden flood of protesters in a city once dubbed by the George H.W. Bush administration as "little Beirut" for its riotous behavior in the late 80s and early 90s, has created what some perceive to be a confusion of left-leaning ideals.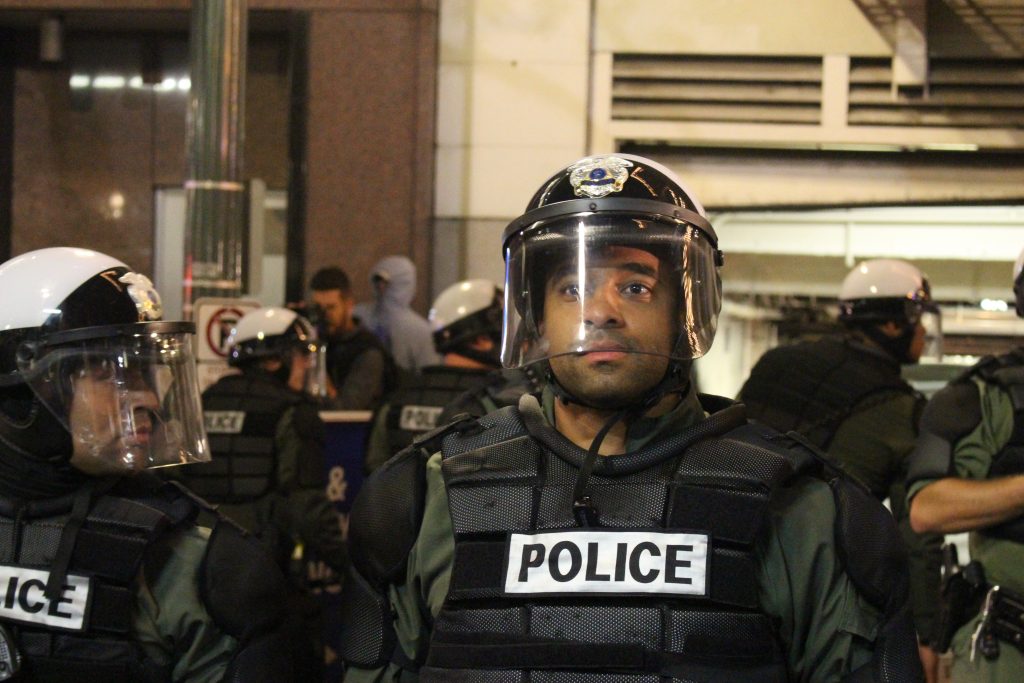 "I know for myself, and a lot of people that I know, we would have been protesting in some way even if Hillary had won. It just wouldn't have gotten as much attention as if Hillary had won," said student and member of the PSU Student Union (PSUSU), Mason Ashwell.
"If anything, the whole Trump situation has actually lit a flame underneath everybody organized, to get involved and understand what's going on. Whereas if Hillary was elected, people wouldn't be motivated to be doing this work. People have been working for years to try  fix and address the conditions and make sure that something like a Trump presidency didn't happen,"said PSUSU member Charley Breyer.
The Student Union is perhaps most well-known for its organizing efforts to disarm recently deputized campus police officers, and for trying to help secure a $15 minimum wage for all PSU workers.
Students with PSUSU see a divide being defined in conflicts occurring at actions– where some protesters chant "peaceful protest" and others break windows– between radical leftists and liberal Portlanders. "It's not necessarily true that every single person who walks up to a protest and has never been to one before and has been to one in the last couple of days has the same reaction to seeing property damage", said another PSUSU member, Emma Whetsell.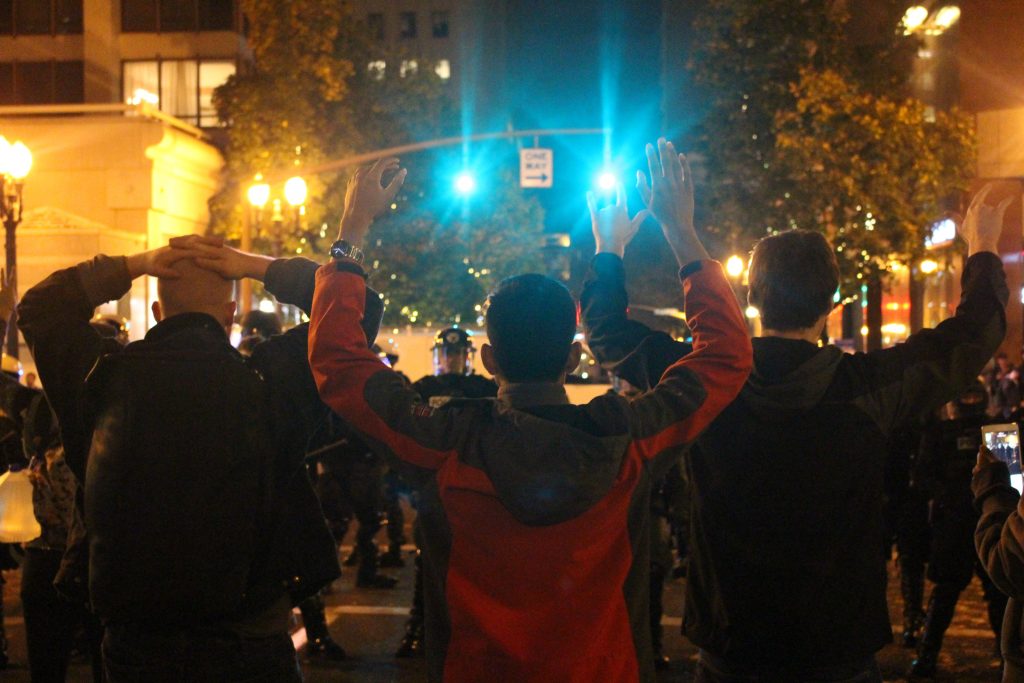 "…[because] they don't. However, there is a significant portion of people who are new to protests whose reaction to property damage is feeling personally threatened."
Students for Donald Trump, a group made up of PSU students that was relatively active last year, declined to comment on their activity for this year. "Yea we plan to 'fash' out to the max," [sic] stated one member to the The Pacific Sentinel upon request for information. The PSU chapter of Turning Point USA, a conservative grassroots organization, also declined to comment on the election.
According to the Campus Office of Safety police report, on Nov.16, one student called CPSO to report a group of masked males yelling "Go USA" and "Go Trump!" near Montgomery and Park street. The reporter said that this was happening daily since the election.
The student response to Donald Trump's nomination doesn't stop there. On Nov. 21, a march hosted by Portland Public School students took place at Holladay Park. People of all ages gathered as one student announced the formation of Portland's Student Resistance. "As young people, few of us were able to vote, yet we are the ones most affected," one participant told the crowd.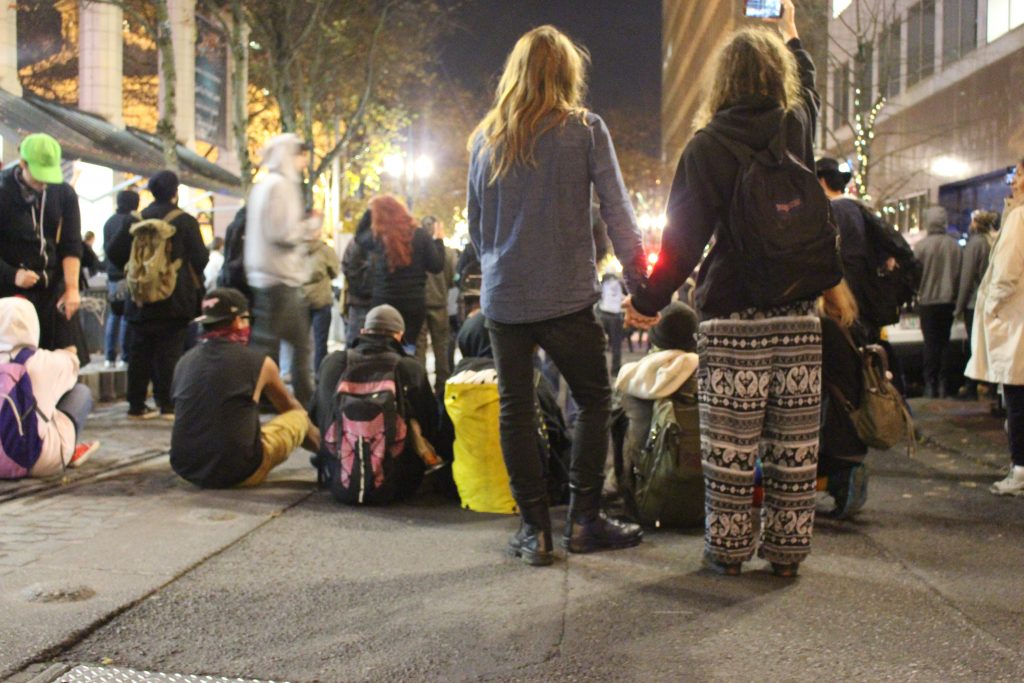 Later that night, three Portland's Resistance organizers were arrested for disobeying police orders and encouraging the youth to do the same, according to the Portland Police Bureau . The charges were dropped the next day, and a letter was published by the Portland chapter of the American Civil Liberties Union (ACLU) expressing concern that the City of Portland was target-arresting head organizers of certain activist groups.
Earlier that evening, Voz Hispana– an organization focused on grassroots leadership– organized a group of over 40 people to hold hands in silence around the front entrance of the city hall building to urge mayoral elect Ted Wheeler to declare Portland a sanctuary city.
On Jan.20, when Trump will be inaugurated into office, Direct Action PDX plans on holding a demonstration in Pioneer Place. According to Facebook, over 7,500 Portlanders– PSU students included– are already looking to attend.