On December 15th, a dozen protesters assembled on the SW corner of Pioneer Courthouse Square in a show of solidarity with the yellow vest protesters that have filled the streets of France each weekend since November 17th.
The Facebook event for the Portland protest read: "End austerity in Portland! Tax the rich & corporations to fund housing for all, subsidized child care, tuition-free college & healthcare for all and other universal public services… In solidarity with the working class people in France and around the world. Demand an end to neoliberal austerity and create a better world starting right here at home." Several protesters in black bloc attire joined; a couple wore yellow vests over their all-black attire, but declined to comment. "Every yellow safety vest is a symbol of the working class," said one protester, as another ripped the plastic packaging off a fresh vest. "This is not a partisan issue," he continued. "It's a class conflict. Whether you are left or right, you are working class."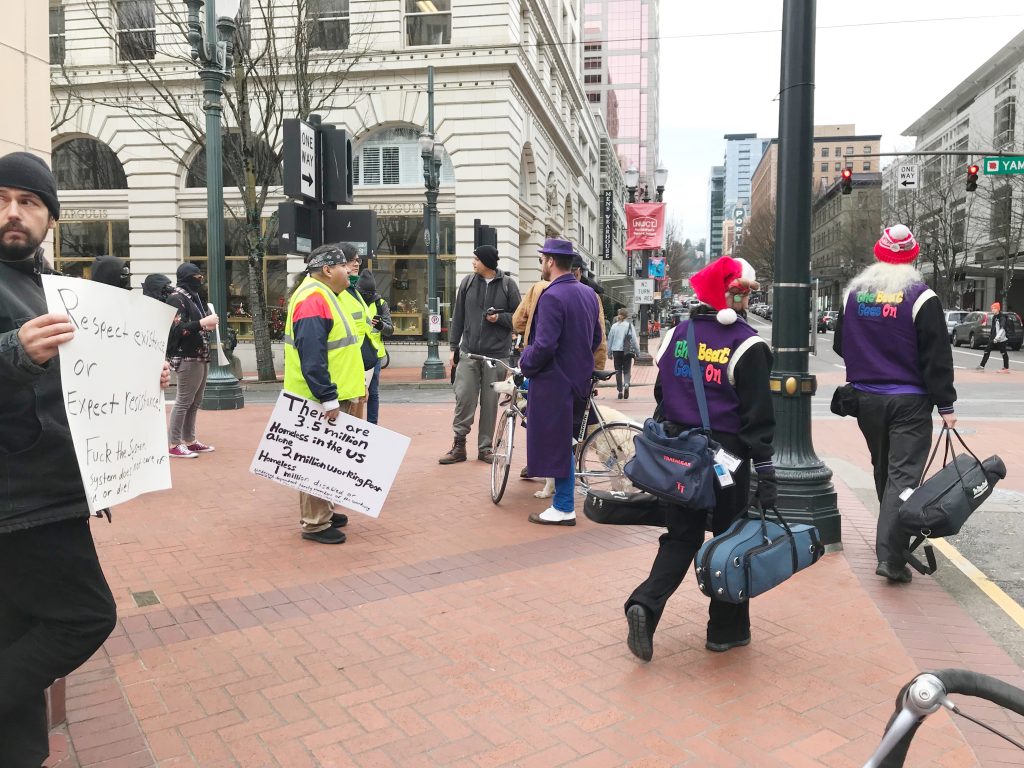 This was not the only event planned for Pioneer Square that Saturday, two weeks before Christmas. The protesters gathered and prepared signs amid a flurry of festive activity. "The marching band here is a little bit of an unfortunate coincidence," said a protester, referring to the "Holidays on the Mall" event sponsored by Portland Mall Management, Inc. and Pioneer Courthouse Square.
Down in the main square next to a 75-foot-tall Christmas tree, The Beat Goes On Marching Band performed alongside The Sugarplum Elves.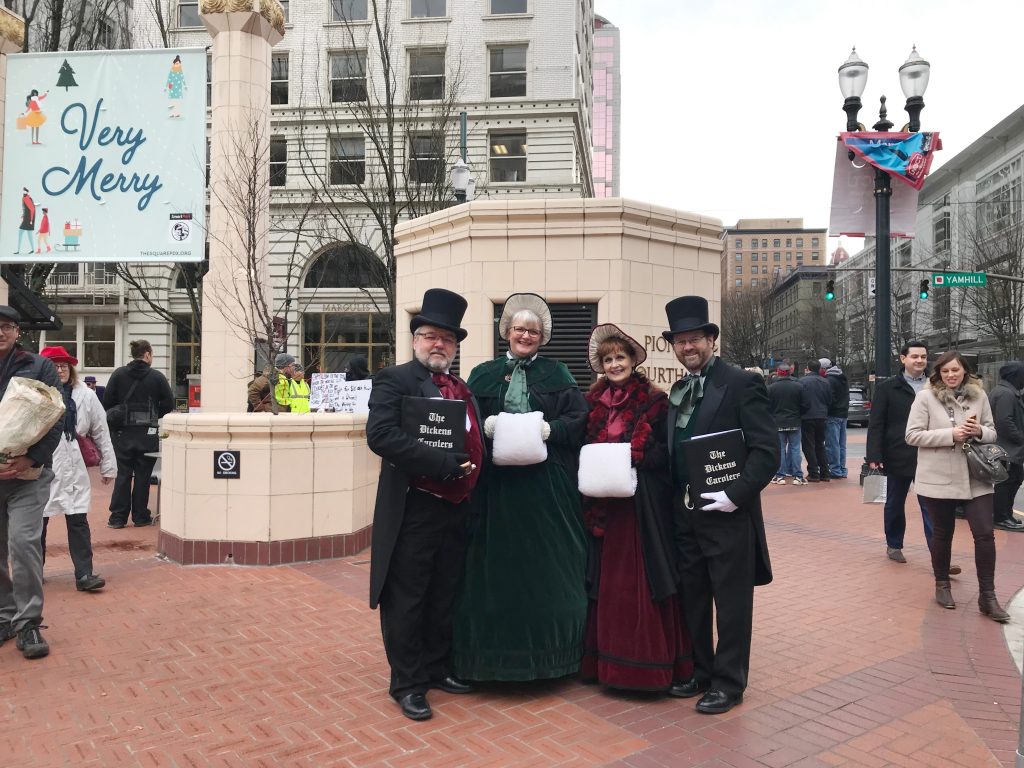 The Dickens Carolers in mid-19th century garb rounded the perimeter. "We've been hired by Pioneer Courthouse Square to spread cheer and get pictures taken," said one cheerful caroler before the quartet erupted into an a capella rendition of "Hark! The Herald Angels Sing."
A swarm of people clad in orange stood by the carts next to the yellow vest protesters. "We're doing a scavenger hunt!" a young woman explained. "You'll see people wearing orange bandanas and stuff… It's all over Portland."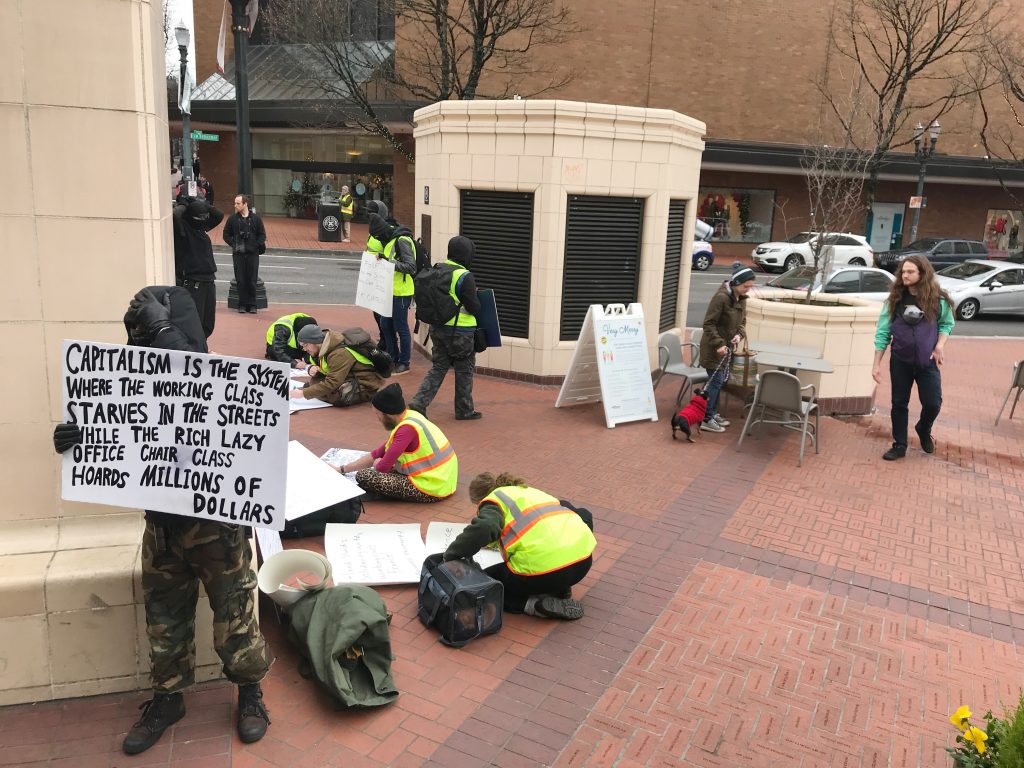 In France, crowds of up to 60,000 people come out each weekend for the yellow vest protests over the last two months. Largely organized over the internet, the yellow vest movement has no distinct leader, but the display of civil unrest carries on. It's named for a simple but striking uniform—the yellow vest—which all French motorists are required to carry in their vehicles. The protest began in rural areas, where people who drive long distances daily were slated to be hit hard by a planned green fuel tax. Protesters in yellow safety vests blocked roads, and word quickly spread across the country. Thousands of workers, members of the middle class, demonstrate each weekend.
The protest has brought out professional vandals called casseurs from the ultra-left and ultra-right. They've overturned cars, set cars on fire, broken windows, torn down railings, and vandalized monuments. Eight people have died, most of them in the countryside. The demands of the nationwide protest are hard to pin down, but most appear to be unified in frustration with declining living standards and the president. Many view Emmanuel Macron as a president for the wealthy because of recent reforms to loosen labor laws and provide tax-cuts for the rich.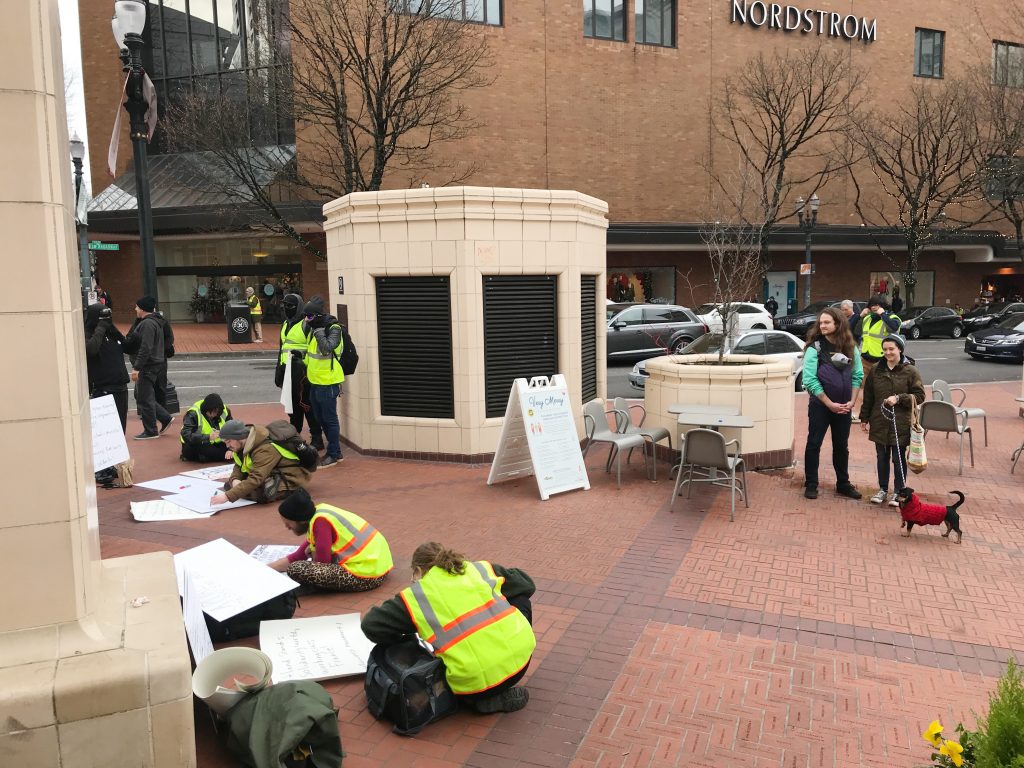 Given the nature of the yellow vest movement, when it comes to unity, the yellow safety vest is the shiny glue. Streets fill with people clad in neon yellow, which pops in contrast to the urban surroundings on bleak winter days. The yellow-vest effect is optic unity.
But here in Portland, on December 15th in Pioneer Square, the yellow-vest-effect paled in comparison. Many safety-vested people in the area were not part of the protest.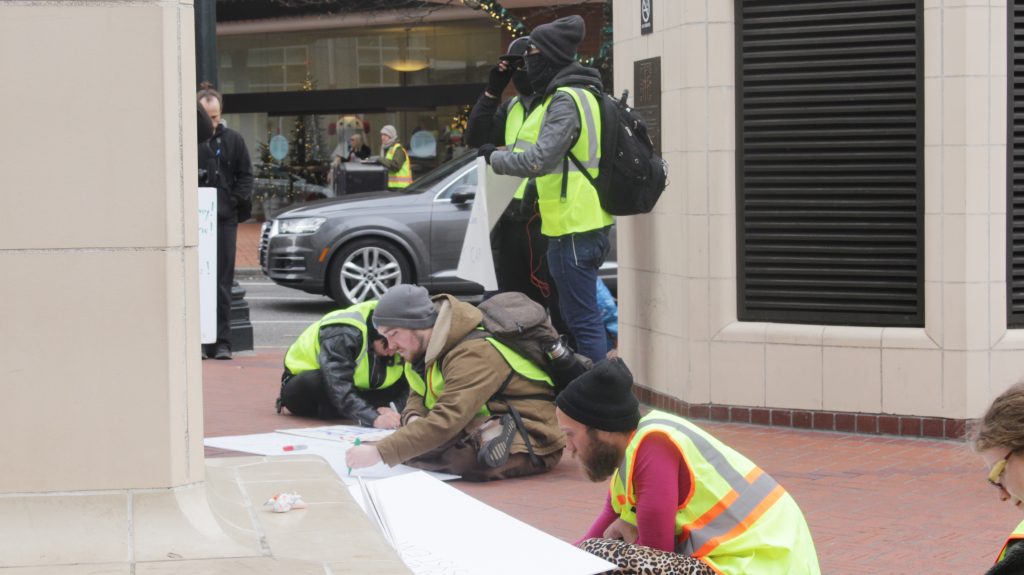 A man across the street sat in a fold-out chair, counting pedestrians with a tally-counter. He wore a yellow safety vest "because I'm working and they make us wear it." He emphasized that he was not part of the yellow vest protest. "It's an anarchist thing, and that's not me."
Nearby, several people wore red safety vests while fundraising on behalf of the Save the Children's Fund. "I don't know what a yellow vest protest is," said one fundraiser, "We are literally just getting people to write letters to kids."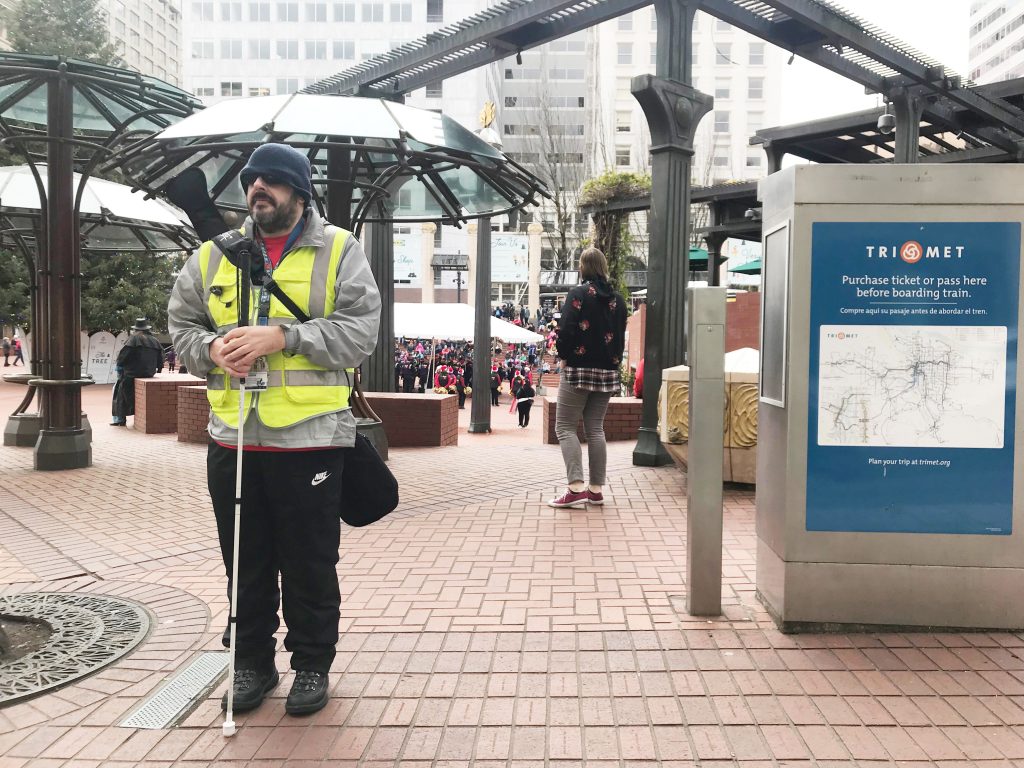 A man standing by the adjacent MAX station also wore a yellow safety vest. "For safety reasons because I'm blind. And it's for traffic so cars can see me when I cross the street."
Up the block, four construction workers wearing yellow safety vests walked along scaffolding as they spoke to each other in Spanish.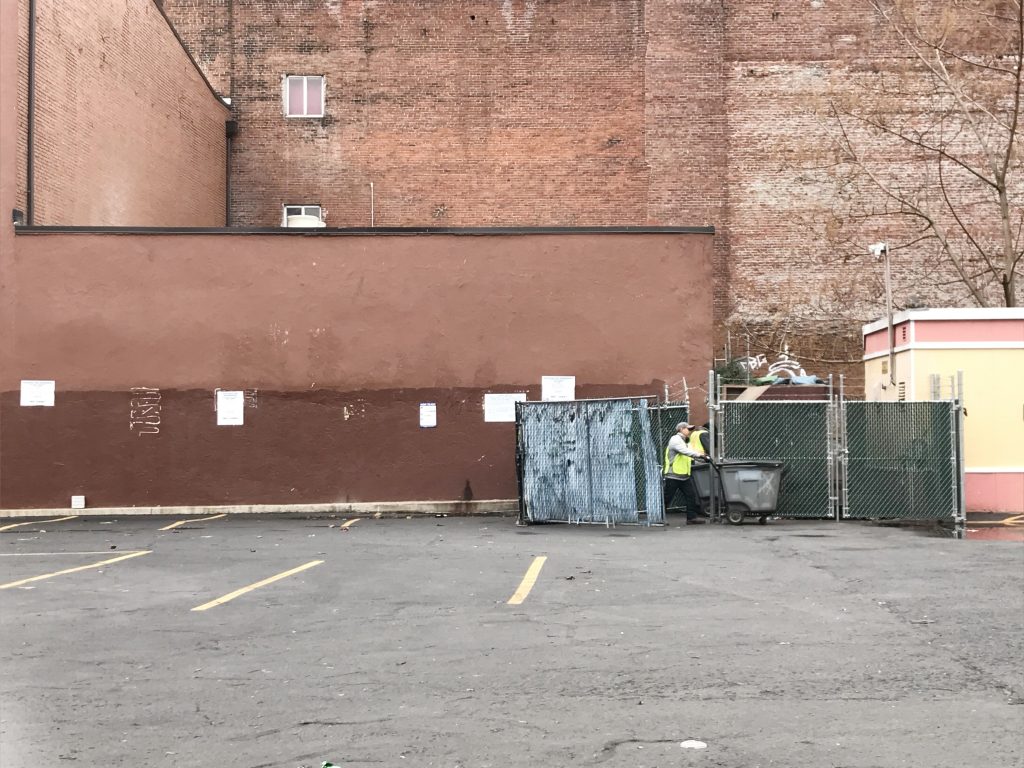 Several garbage collectors wore yellow safety vests as they pushed large carts of cleaning supplies around Pioneer Square. "Picking up garbage, removing graffiti, being safe, picking up glass," a collector said about his job's tasks for the day. Protesting anything? "No. I'm just working." The yellow vest? "So I don't get run over by a car or a bus."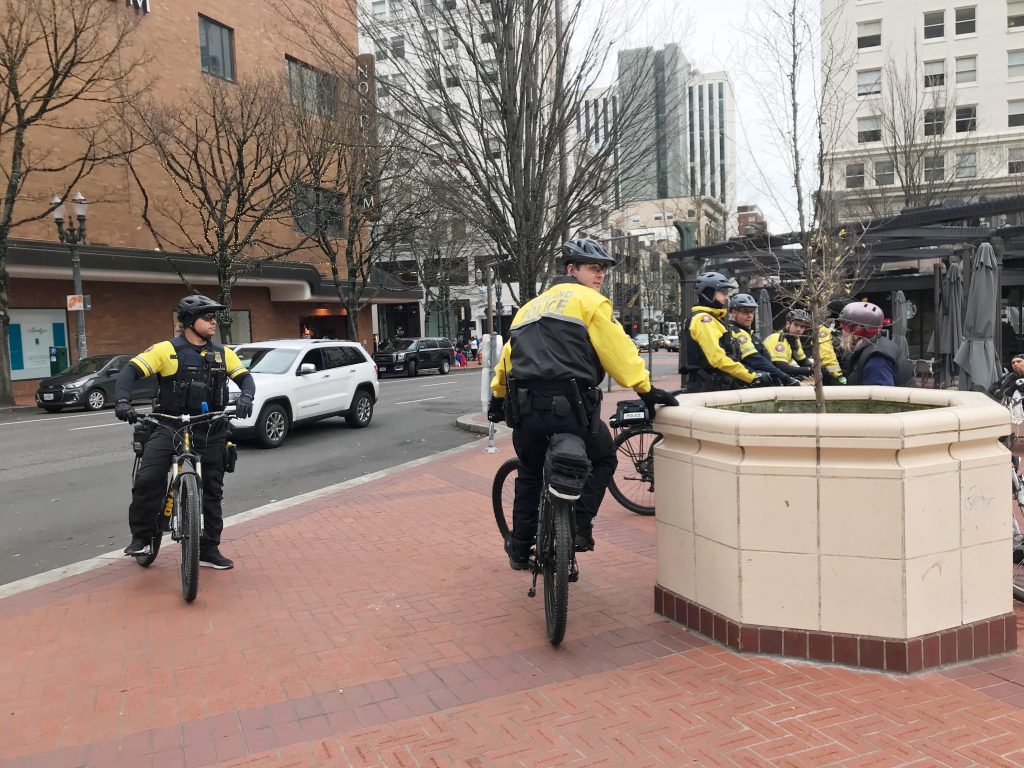 Even the police patrollers wore yellow. "This is my patrol uniform; it has been for many years. We're just doing patrol," one said as he glided away on his bicycle.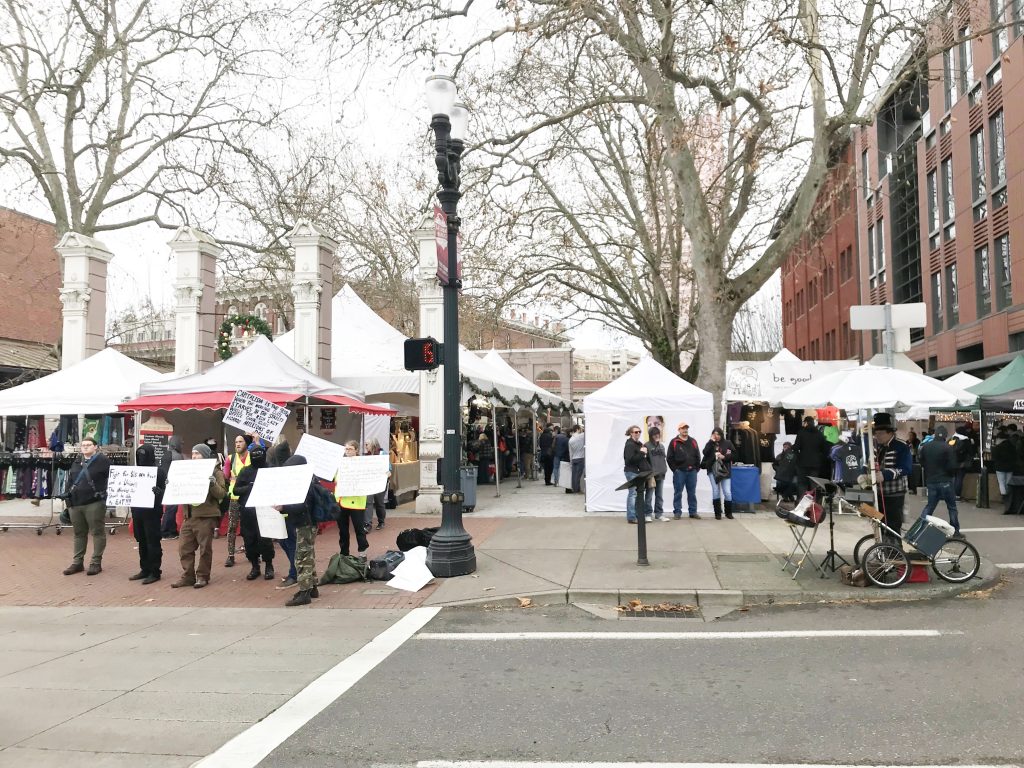 The yellow vest protesters abandoned Pioneer Square and marched on, undeterred, in single-file to Waterfront Park, where they held their signs up to traffic and pedestrians passing by. They ended up on the west side of the Naito intersection, flanked by Saturday Market crowds waiting to cross the street. A saxophonist drowned out the protesters' chants with "Play that Funky Music, White Boy." Sometimes the saxophonist would chime in ironically. "Solidarity!" shouted the protestors. "Spaghetti!" the saxophonist said. "Tax the Rich! House the houseless!" yelled the protesters. "Eat chicken!" the saxophonist hollered back.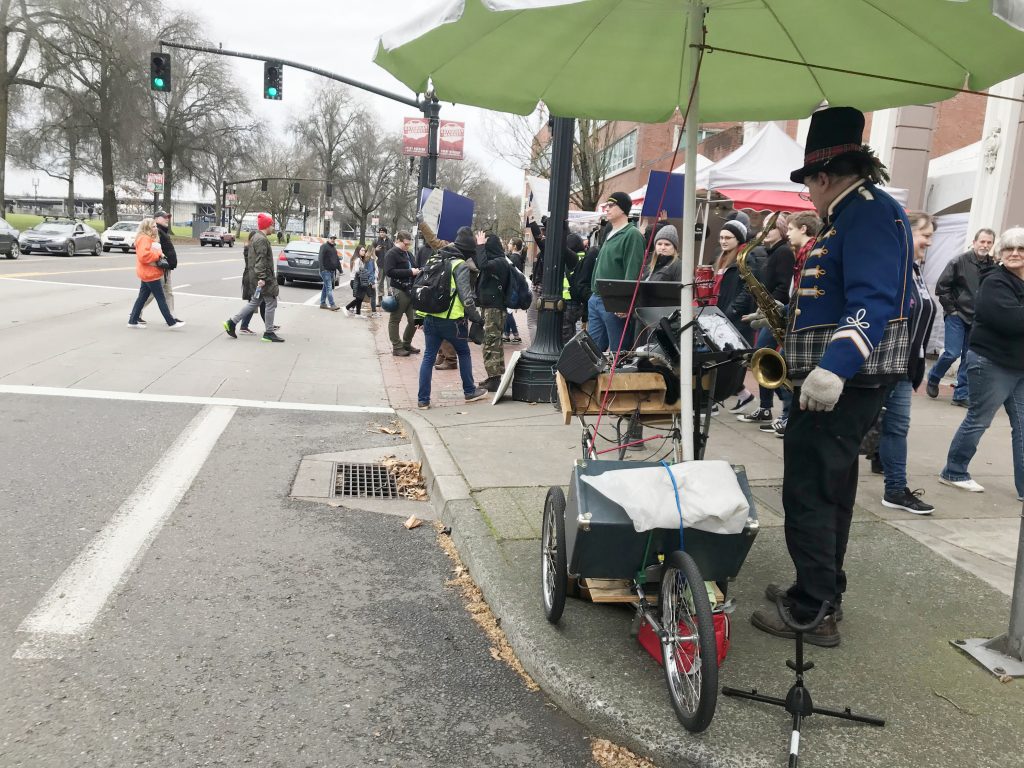 The following photos were taken by Margo Craig