The most casual moments on the Portland Book Festival agenda were also perhaps its most intimate. Scattered throughout the Portland Art Museum and throughout the day, pop-up readings gave attendees a chance to hear authors read their own work in an intimate setting. Each reading was located beside a relevant artwork in the museum's collection. 
One of the first readings of the day featured author Ryan Chapman reading from his debut novel, Riots I Have Known, a dark satire set in the modern prison system. To Chapman, whose novel just released in May, readings such as these pop-ups present an opportunity to continue practicing reading his own material. "There's a lot of jokes and concepts that work on the page, and then when I read them out loud I would have, like wink, and people would be like 'I don't get it,'" he said. "It's been nice to read outside of bookstores, because people [react more]. You can feel the audience which is nice. I'm really glad I've been able to do this over the summer because I can feel myself getting better."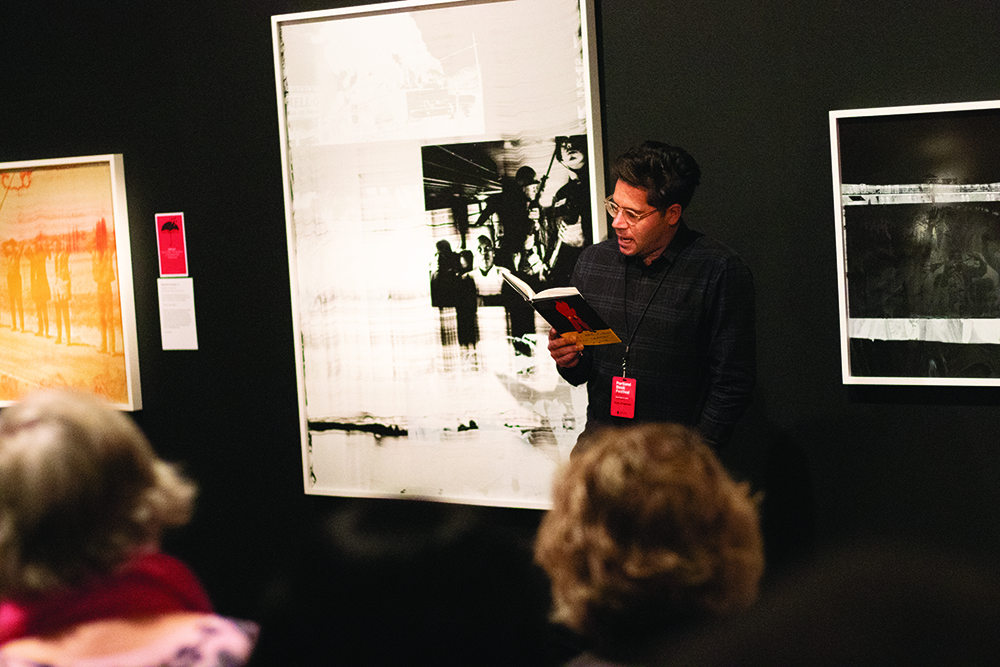 Ryan Chapman reading from his novel Riots I Have Known in front of the Hank Willis Thomas artwork Attica (White Stripes). Photo by Jake Johnson.
The Portland Book Festival paired Chapman with Attica (white stripes), a screen-printed piece featuring images of the Attica prison uprising within the compelling Hank Willis Thomas exhibition. A first-time book festival volunteer named Ben said he appreciated the "thought put into which piece of art would reflect or pair well with [each] author's work…I love that there is this merger of the written and spoken word with the visual art."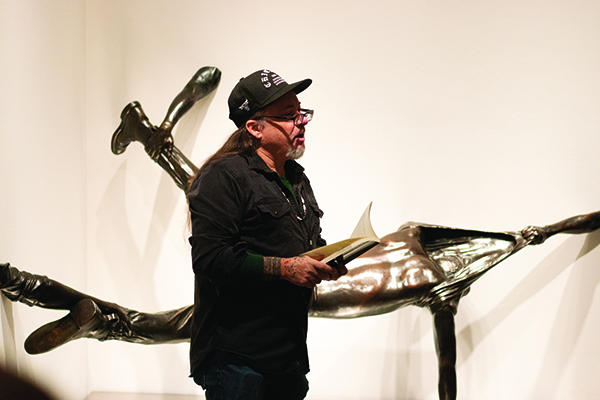 Dr. Theodore Van Alst, Jr. reading from his story collection Sacred Smokes next to the Hank Willis Thomas artwork, Looking For America. At Portland State University, Van Alst is the current Interim Director of the School of Gender, Race, and Nations and Associate Professor and Director of the Indigenous Nations Studies. Photo by Jake Johnson.
Robert, an attendee returning to the book festival for a fourth year, said the pop-up readings are his favorite part of the book festival. "What really draws me to this is this chance to have an intimate encounter with the writer," he explained. "Writers put something out in the world and they don't always get to see how people are interacting with it, and this is a chance for us to give immediate feedback to the writers."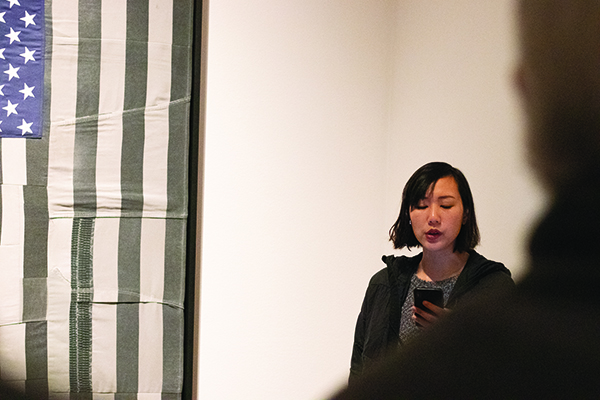 Steph Cha reading from her novel Your House Will Pay next to the Hank Willis Thomas piece, Stars and Bars. Photo by Jake Johnson.
A schedule of pop-up readings was available to festival-goers looking to catch a particular author, although by scattering the locations throughout the museum, it was easy to stumble upon a reading at random. Robert recommends doing just that. "I don't even plan ahead, I just kind of look in here and wander for a while…it becomes a spontaneous literary experience."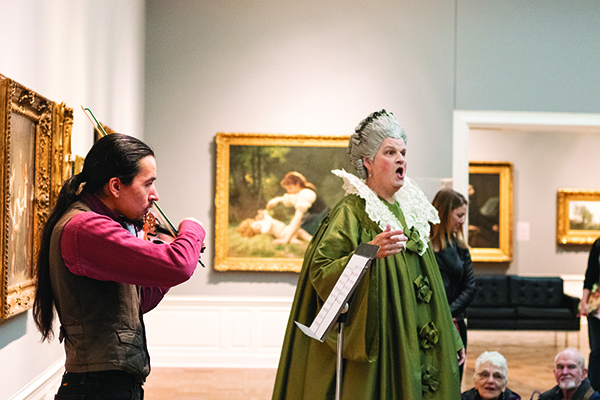 After a reading by Laura Stanfill from Stephen O'Donnell's art book, The Untold Gaze—various authors, including Stanfill, wrote short stories in response to O'Donnell's paintings—O'Donnell made a surprise appearance to sing Christoph Willibald Gluck's aria from Orphée et Eurydice, "J'ai perdu mon Eurydice," with violin accompaniment by Tomoki Martens near a painting O'Donnell is particularly fond of, Portrait of a Lady by François Boucher.