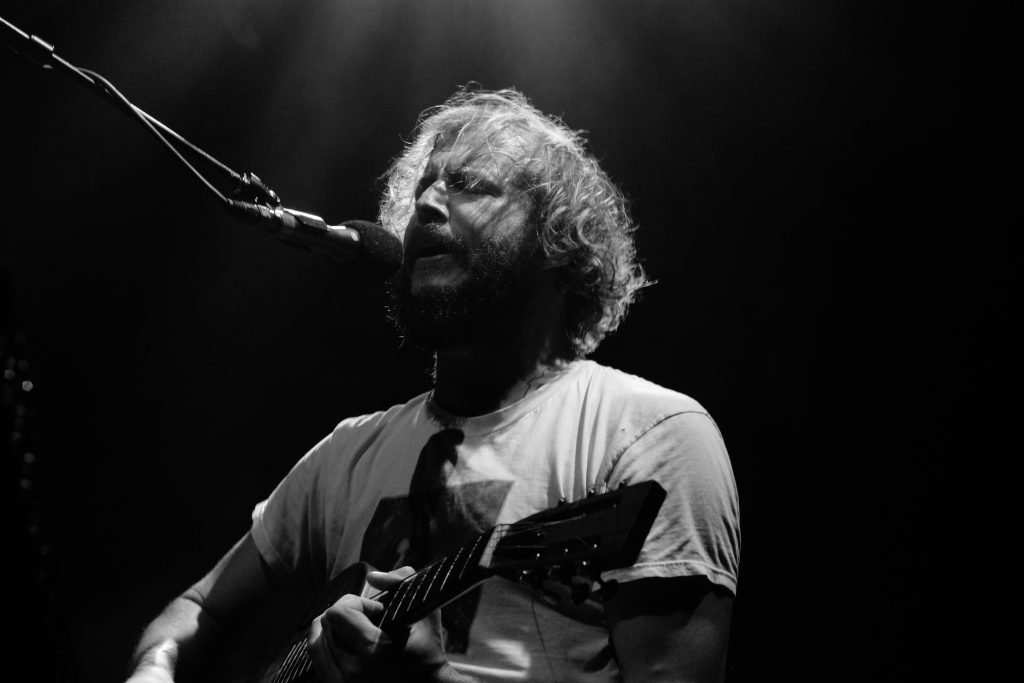 The concept of a lonely bearded man retreating into the Wisconsin wilderness to create a painfully vulnerable folk record seems like it was written in a book. "For Emma, Forever Ago" and it's romantic story quickly pushed Justin Vernon (known for, and as, his band, Bon Iver) to the forefront of the late 2000's indie stage. With the album's soaring popularity among online critics, Vernon was contacted by a number of labels in late 2007, and signed with Jagjaguwar as Bon Iver. The tracks on the album that brought Vernon this fame were woven together with themes of isolation and loss, and the music had a comfortable melancholy to it, which projected those themes in a pensive and nostalgic way.
Vernon's personal life and Bon Iver the band became closely tied when his raw expression of sorrow proved to be a commercial success. This realization led to the 2012 release, "Bon Iver, Bon Iver". On this record, Vernon muses about the physical world and the band itself, as opposed to the focus on his own emotions on "For Emma, Forever Ago". The anthemic tracks on "Bon Iver, Bon Iver" and the additional musicians on the record shows a shift away from solitude. This devotion to the band quickly became a source of anxiety for Vernon. According to Vernon's lifelong friend, Trever Hagen, the translation of his emotions into the music of Bon Iver made him feel as though he had lost any identity of his own. Hagen addresses Vernon's struggles in an article that has been posted on the Bon Iver website, explaining how all of this fear manifested itself as Bon Iver's September 30th release, "22, A Million".
The perspective on this album is a fusion of the self-evaluation found on "For Emma, Forever Ago" and the sweeping look at the world cast by "Bon Iver, Bon Iver". The viewpoint on "22, A Million" demonstrates the artist's loss of self to the brand the two previous LP's had built. Recently, many other entertainers have been pushing this topic as well, including figures such as Bo Burnham, Kendrick Lamar, and Kanye West. Vernon explores this feeling by switching from his traditional indie-folk sound to a more digital tone. One of the album's first singles, "10 d E A T h b R E a s T", contains an aggressive synthetic beat backing distorted and heavily produced vocals, reflecting a fractured perception of pop music that has been a focus for many artists lately. This forceful application of editing technology presents itself as the most defining characteristic of the album.
While the pitch shift, auto-tune, and audio tearing are initially the most attention-grabbing feature on "22, A Million", upon closer inspection, the form of songwriting aligns very closely with that of Vernon's prior Bon Iver albums. This is apparent on  "29 #Strafford APTS", which would sound completely at home on "Bon Iver, Bon Iver" if it weren't for the slight manipulation of the audio in post-production. These minor details are important to note, however, because the point of the harsh digital sound articulates something completely new. By expressing his original writing style in a more production-based context, Vernon is able to parallel the atmosphere of the music with the intimate conversation between himself as Justin Vernon, himself as Bon Iver, and the rest of the world around him. He shows that he is willing to look outside himself by experimenting with production trends in the music industry, but he expresses that the music is still his own, honest and vulnerable, and that is how it will be, regardless of his involvement with the Bon Iver brand.