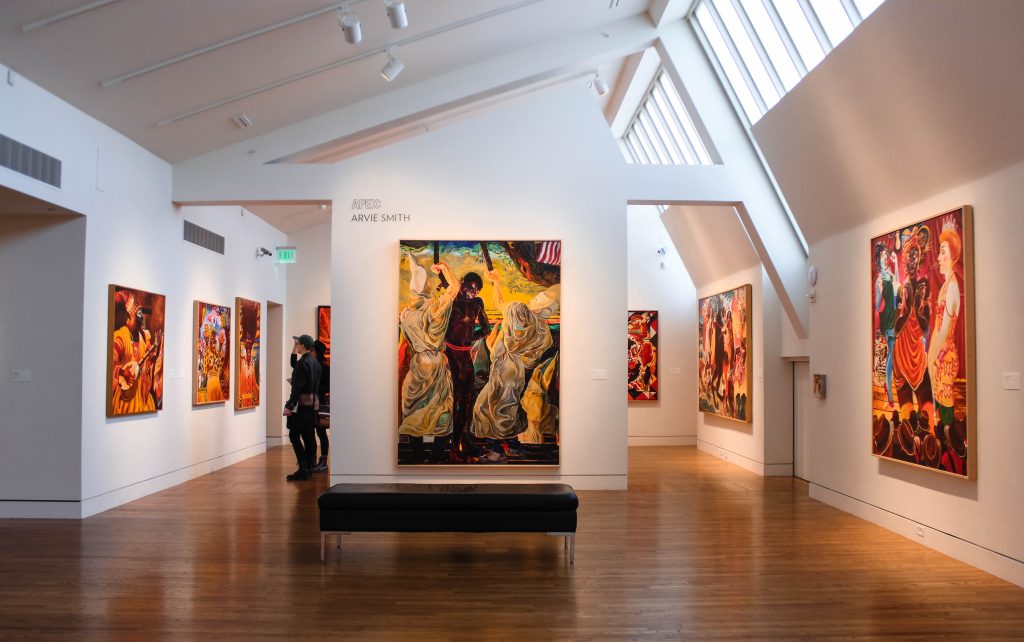 The Portland Art Museum is a pretty cold place, with its staunchly white walls and an air conditioned breeze that seems to blow even in December. But standing surrounded by Arvie Smith's exhibit, it was impossible to not feel warm among the jarring golds and reds that highlight the massive canvases which hold Smith's work.
While the exhibit took up no more than five smallish walls in the corner of the fourth floor of the Portland Art Museum, the color and sound of Smith's pieces spoke loudly enough to fill up the entire room.
"[Smith's] intention is to solidify the memory of atrocities and oppression so they will never be forgotten nor duplicated. Smith creates this work because he must," states the artist's online bio. This intention is achieved through the sheer size of each piece. These aren't canvases you can just walk by, or images you can look at without thinking of the immediately relevant political or historical context.
One of the key pieces of the exhibit, "Strange Fruit", depicts a lynching, with a chilling modern twist: One of the lynchers, dressed in full Klan garb, is wearing modern-looking tennis shoes. This piece has a wall all to itself, facing the rest of the museum space, calling to passersby with its intense color scheme and shocking plot. "I love colorful stuff like this," one museum visitor told their family.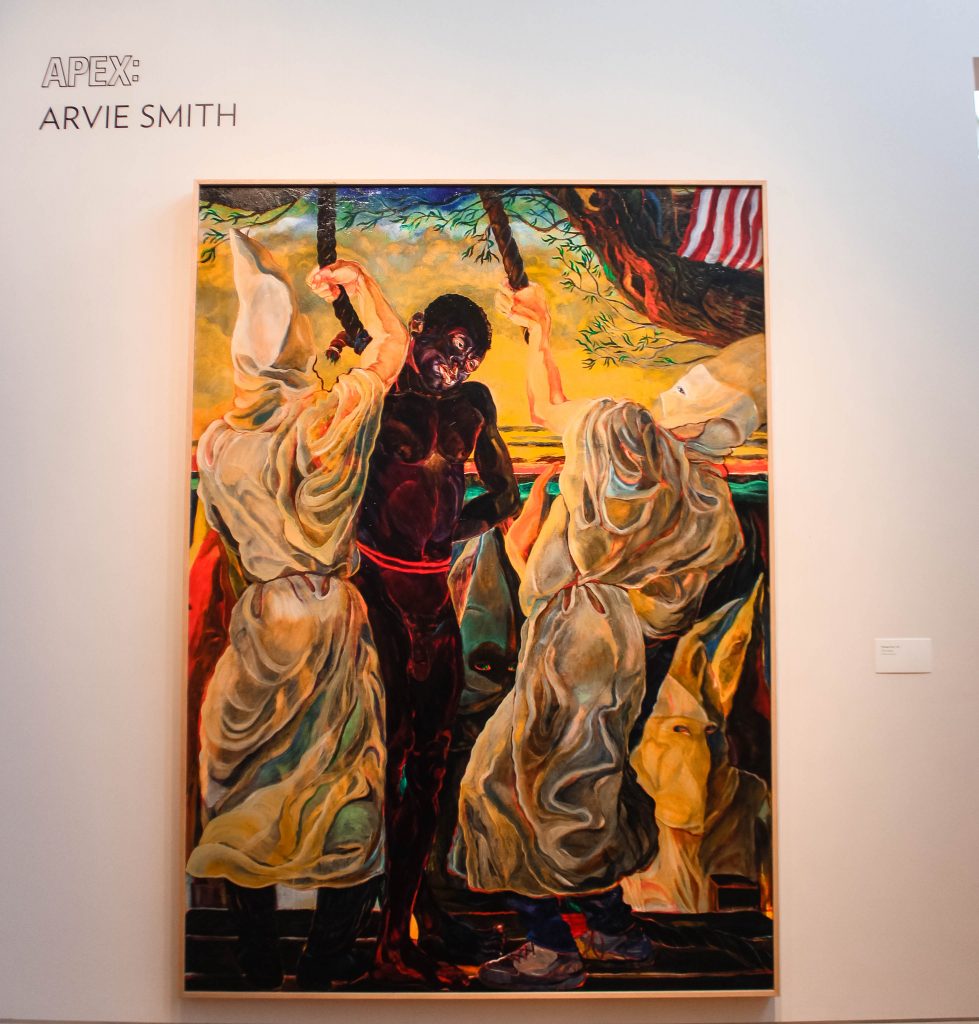 One piece, "Hands Up, Don't Shoot"  features a woman holding two stacks of pancakes covered in syrup. She's planted firmly in the foreground, smiling at her audience. Behind her Aunt Jemima-esque smile, there is a cameraman in jester-like clothing, the chalk outline of a ghostly dead body, and police tape that reads:"POLICE LINE DO NOT CROSS". Statements about police brutality and violence that cannot be ignored, despite their position in the background of the painting.  
"'Hands Up, Don't Shoot' is my reaction to the shooting of a young African-American man in Ferguson, Missouri. And this young man was left lying in the streets for four hours. And this is what they used to do back [during] slavery. They would demonstrate what would happen to you if you defied the system," Smith told PAM during a filmed interview.
He's referring to the 2014 murder of Michael Brown, who was hit with at least 6 bullets from police officer Darren Wilson after allegedly stealing several packs of cigarillos and assaulting a store clerk, according to the New York Times. The shooting sparked civil unrest and protests against police violence across the country.
"I think the media has a bird's-eye view of what's going on, and they can choose to report it or not to report it. And in this instance, they did report an unleashing of governmental violence unseen since the Civil Rights Movement," said Smith.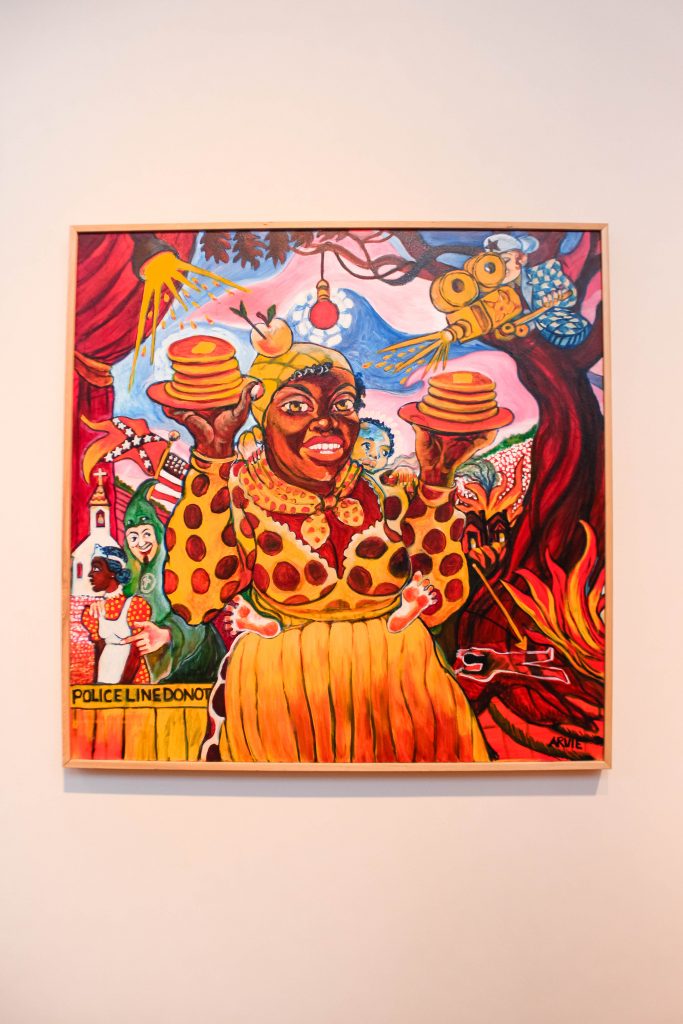 "It's a cliche: A painting's worth a thousand words. Well I think it is, but I also think it will stimulate more than a thousand words because I think, everybody comes at these strong emotional situations from their own frame of reference and I'm going to see things one way, someone else is going to see it another way, doesn't mean I'm right, doesn't mean they're right or wrong. We have a difference of opinion. Somewhere, through dialogue, hopefully we can come together and make this a better world to live in," said Smith.
Smith was born in 1938, and his age seems to lend to the thematic depth of his pieces, which commonly draw on historical caricatures of African Americans. He grew up in rural Texas and Los Angeles and studied fine arts at the Pacific Northwest College of the Arts, where he has also spent time as a professor, according to his website. At the Multnomah County Courthouse, four murals he produced with incarcerated youth of the Juvenile Detention Justice Center of Multnomah County are on display.
APEX: Arvie Smith is showing through March 12. It is a part of Portland Art Museum's APEX series, which highlights artists based in the Pacific Northwest.