The 4th annual Portland Winter Light Festival came to brighten the cityscape through the early February winter, once again taking over the darkness with a wide array of illuminated art installations.
The yearly event, hosted by the Willamette Light Brigade, brings a variety of lighted artworks to different designated "zones" of Portland, and for the first time, the Portland State University Campus was one of those zones. While PSU has hosted pieces for the Winter Light Festival before, this year the campus featured more artwork as an official zone including the iconic "Geodesic Dome" on display in the middle of the Urban Plaza.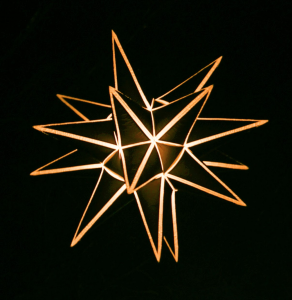 The West Riverside Zone was situated outside of the World Trade Center and around the West side of the Hawthorne Bridge. Oregon had just been put under a statewide winter advisory anticipating a record-breaking blizzard; the Snowpocalypse never really landed, but the Portland Winter Light Festival was cold, especially by the river. Crowds of people braced against the weather with warm jackets and knits, turning their attention to the surrounding lights popping against the nighttime chill. Some festival-goers, like PSU student Sarah, lined up under the bridge at the Coffee Bus, not for artwork, but for a hot beverage. Two minutes later, my hot chocolate was already just chocolate, but Sarah seemed undeterred by the cold. "This is the first time I've come. I didn't even know that Portland hosted a light festival," she explained. "It's really cool. There's a lot of creative designs and concepts. My favorite's the paper airplane exhibit, though the airplanes were made of glass or ice or metal or something."
A festival featuring lights did not waste the opportunity to host some spectacular interactive artwork. One flaming structure in particular, titled the "Moltensteelman Wishing Portal," garnered quite a crowd. The portal consisted of a pair of lit structures with fire blazing out of their tops in repeated bursts. The fire was controlled by a "magic lamp" in front of a gated barrier, where people could step up and use buttons to control the flames in a variety of patterns.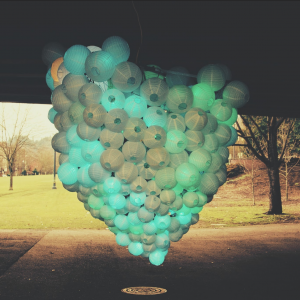 There were several pieces under the Hawthorne bridge, but "F(Light)" was front and center. "F(Light)" is a collection of glass paper planes frozen mid flight with a video projection of the moving sky over top. The installation was created for the first Portland Winter Light Festival in 2016 and has returned every year since. Next to "F(Light)" was "La Touffe," a massive group of paper lanterns suspended from the bottom of the bridge. A single string that hung from them made for a great photo op for passersby.
The festival carried on: artists, their vibrant work, and the festival's attendees showed that despite concerns of a potential snowpocalypse, public art was worth braving the weather for.