You know the F word. One of the worst things in polite society. Say it, and watch the dirty stares accrue. It's one of the easiest insults there are, guaranteed to offend despite becoming so constantly used in our vocabulary. It's big. It's bad. It's fat. 
The line between who's fat and who isn't is arbitrary at best, and yet, it's a line that you don't want to cross—and a line I've been living over for most of my life. You can never be sure, but at 300 pounds, I think it's safe to say I'm more than a little big boned. Lucky for me and the rest of this big community, we're living in a body positive revolution.
Overbearing society's weight limit has always been an easy way to assign shame, regardless of one's circumstances. Despite today's body positive revolution, people still do this—lot of people still do this. It's been ingrained in our heads that we can grow up to be anything we want to be, just as long as we're not fat. But, times are changing, fat shaming can be called out, and fat bodies are something to celebrate as opposed to hide. It's going to take a lot longer to undo a lot more years of fat shaming and body shaming throughout history, but every small step counts.
So now that we've crossed the line into fat and we're not hiding, where do we go? What's a small town fatty like myself supposed to do in the great big city? The answer is plenty. Portland is filled to the brim with events, communities, and businesses built for the chubby, the overweight, and the plus-sized. There are enough that they can't all be fit into one article. But, I'm gonna write about them all anyways. Welcome to The F Word this Month.
Chairs                                                                                                                                                                              It is the responsibility of a chair to hold whoever is sitting on it. Presumably without any pain.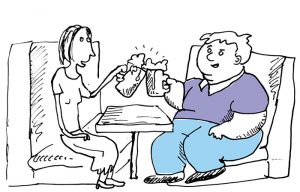 It sounds obvious—yet, for overweight Americans, it isn't a guarantee. What if the armrests are too close together? What if the seat is bolted down too close to the table? What if they only feign stability long enough for you to have too hard of a laughing fit that destroys the flimsy cafeteria seat and embarrasses you in front of all your friends?
Chairs are terrifying                                                                                                                                                 The majority of Americans are either overweight or obese, and yet, the world continues to shrink. Airline seats are shrinking as fast as they can build planes. Only so many clothing brands are willing to offer plus-sized clothing—and even those that do often seize the opportunity to price them higher or hide them online.
It's not the businesses, prioritizing their profits, that are typically presumed to be the problem; rather, it is the fat person, especially those with the audacity to ask to be accommodated. Now, however, the fat community isn't relegated to a couple businesses bothering to offer their hospitality table scraps. Hell no, there are options now: Plenty of which can be found right here in Portland.
We're highlighting two things today: The AllGo app and Fat Fancy thrift store.                              AllGo is Yelp for fat people. Gone are the days of blindly entering a new business without having thoroughly dissected its reviews and photos online beforehand. Everything you could ever want to know about a place is in the palm of your hands. However, rather than focusing on whether the steak was subpar or the staff are sour, AllGo's reviews instead rate businesses on their accessibility, especially for the long neglected plus-sized market. A restaurant could have the finest filet mignon in the world—but if the fat customer couldn't even fit in their seats, well, what's the point in them going?
Their website's URL asks the unassuming question, "Can we all go?" Yet, looking just a little further into their website reveals their pride in catering for the plus-sized.
"AllGo is a review app where plus-size people rate the comfort and accessibility of public spaces so others can know what to expect. We help people of size go out more, with less anxiety," according to the company's website. "Our reviews are straight from the source: Fat people who've been there before and want to share what it was like." Simply by using the term "Fat" often, what was once a petty insult has been reclaimed as a source of pride.
The review pages have much of the same information reviews on Yelp do: Business's hours, their phone number, website, etc. However, each business's page also includes insight about accommodations like armless chairs and movable tables—for those who need them, those details can mean the world. It's crazy to think about how grateful I am just to be able to sit down for a meal without a table jabbing me in the midsection the entire time.
The app is free to use and currently being tested in the Portland area. AllGo plans on expanding to more cities over the course of 2019.
AllGo is a great way to check if a business will be accommodating for fat people. But what about a business that was made for fat people?
Enter Fat Fancy.                                                                                                                                                           While most clothing stores offer plus-sizes as an afterthought, and thrift stores will stock plus-sizes as they get them, Fat Fancy is a thrift store stuffed with nothing but. Gone are the days of ignoring most of the store because the accessories are the only things that will fit—although they've got a pretty cute accessory section too.
"Fat Fancy is a body positive, anti-discrimination, space and fat community hub," describes co-owner Bee, "Shopping at Fat Fancy is like hanging out with your best friends while doing a fashion show. Everyone, from staff to other shoppers, will lift you up and tell you how cute you are!"
In order to illustrate the shopping experience at Fat Fancy, you should understand the typical plus-sized shopping experience first. It's rarely amazing. In a typical trip to the mall, most of the shops get passed by unless you're pulled inside by a skinnier friend that wants their own chance to spend all their money—their skinnier clothes are always cheaper. Eventually, there are a couple of plus-size stores, and they're great! But, even in these stores, the sizes in abundance are 0 and 1x sizes—a size 12–16 range.
At Fat Fancy the opposite is true. Being a thrift store, everything was unique. While the staple chubby mall brands were present, there were some gems from online-exclusive brands as well. It's a shop has unflinching pride in fat bodies. It's dropped a numerical sizing routine altogether in favor of words like "Plush" for sizes 12/14 to "Divine" for 22/24.
Standard plus-sized shopping feels like following a strict set of rules, using drab clothes to try and hide the fat. Fat Fancy is a thrift shop selling clothes to embrace it.
Portland is a liberal city which champions personal freedom and self expression, and naturally offers experiences that were created specifically by and for the fat community. For all the city's trails and nature spots, Fat Girls Hiking leads stress free hikes without the fear of shame or ridicule for one's size. Body Home is a dance class that is open for all, but made for the overweight. The Chunky Dunk is a pool party where fat bodies can hang out sans nasty stares and glares. The fat community is, fittingly, growing. And I'm gonna try to write about more of it.
For how stressful our modern life has become, it is great to see just a couple things become a little less so in a big way. So ha!—take that, chairs.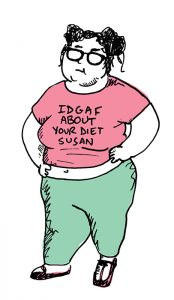 Illustrations by Josh Gates