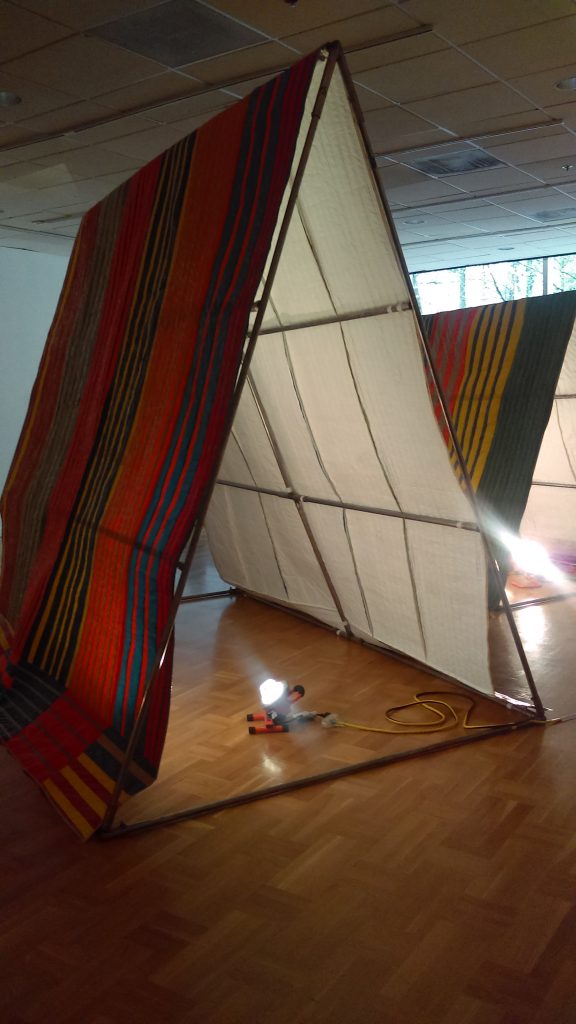 Wynde Dyer, a local artist and a Portland State University alumni returned to campus for the first time in eight years for an art exhibit in PSU's Littman Gallery.
"This show was not supposed to be this show", Dyer said, sitting in the little plastic chair of the coffee shop, bright engaging eyes focused as she talked. "It was supposed to be about failure of and in education…" Dyer explained, describing a crowd sourced quilt project that hasn't been created yet, an opportunity for people to share their experiences with the education system. Instead, recent political and social problems took greater hold and made more sense.
"But I was just so sick of city hall…" Dyer continued, explaining the ambling path from her original idea to the politically charged exhibit, "Camp Here Tonight", an exhibit that ran in the gallery from October 5th-27th. "This project was kind of like a 'fuck you' to city hall. If you're not going to solve this problem, we'll do it our own way."
The exhibit featured three large iron frames covered with brightly colored tarp quilts pulled taunt into tents. Lights shown from inside, illuminating otherwise empty space. on the wall at the entry hung two framed letters, one from the neighborhood the other in response, written by Dyer. In the first letter, a 'concerned neighbor' writes to warn others in the neighborhood of new neighbors, a woman and her dog sleeping in a burgundy volvo. The letter continues to subtly advocate harassment and lists the phone numbers for the police. Dyer's letter is a response, explaining her circumstance. This was in 2012 and 2013 when Dyer found herself houseless. After her partner's father died, her dog required surgery to stay alive and the loss of her health insurance. After that, her landlord raised her rent; and that was it. For several months Dyer showered at a friends house down the street and spent her nights in the gallery, putting together an exhibit and sleeping in the car during the day with her dog, Daisy. Because she had just enough help, she laughingly referred to this experience as more like "glamping" and that "none of the other homeless people believed I was homeless."
In the corner of the gallery space was a set-up sewing machine and some of the materials the artist used on display, a functional work station for the viewer to analyze. A video entitled "Sharing the Scraps" played intermittently in the gallery space, which Dyer says was dependant on occasionally dysfunctional technology. The back wall was lined with screenshots of Airbnb listings for tent accommodations on Portland properties. They advertise tents with well decorated air mattresses in backyards across portland for around $60-$80 a night.
Until August of this year, camping on the street in Portland was somewhat legal; Mayor Charlie Hales has drawn criticism by allowing the houseless to temporarily sleep on the Portland streets relatively undisturbed. But after attempts to sue the city and complaints from businesses and residents, Hales reversed his earlier decision, allowing the police to clear houseless camps at their discretion. While the Airbnb listings for backyard tents and camper trailers are so far undisturbed by the city, as of April 2016, Portland had cleared 48 campsites throughout the city.
Aside from Hales' decision to temporarily overlook the law, it is illegal for the houseless to set up camp on the street. But the laws for allowing people to camp on private property are not so clear cut. The law itself states that this is legal so long as the resident allows it; but the zoning codes present a strange contradiction. Every city has zoning codes which allow for certain uses of land and certain construction in certain areas. Tents or tiny house-accommodations on wheels—  sometimes constructed by the houseless— are considered 'recreational vehicles' under Portland zoning laws. Recreational vehicles are against zoning codes in residential neighborhoods. This means that the city can, will, and has cleared camps from consenting residences looking to share their properties with the houseless.
"This show is sort of like planting a seed," Dyer said. "What if there was an Airbnb that partnered houseless people with housed people who had yards they could sleep in? What would that look like?"  Through the imagery of the empty, illuminated, and colorful tents, the screenshots along the back wall and the title, the exhibit "Camp Here Tonight" asks the question Dyer is eager for viewers to answer: "If the city can't crack down on illegal Airbnb rentals, can they crack down on backyard tents?" To make this a reality, there was a cluster of yellow tarp signs that say "camp here tonight" against the back wall of the exhibit. Each sign sells for $20-$40 depending on size. Dyer hopes those who purchase the signs will put them in their front yard to signal to the houseless this is a place with an open mind to the housing crisis, and maybe even a toilet and a shower or a backyard tent.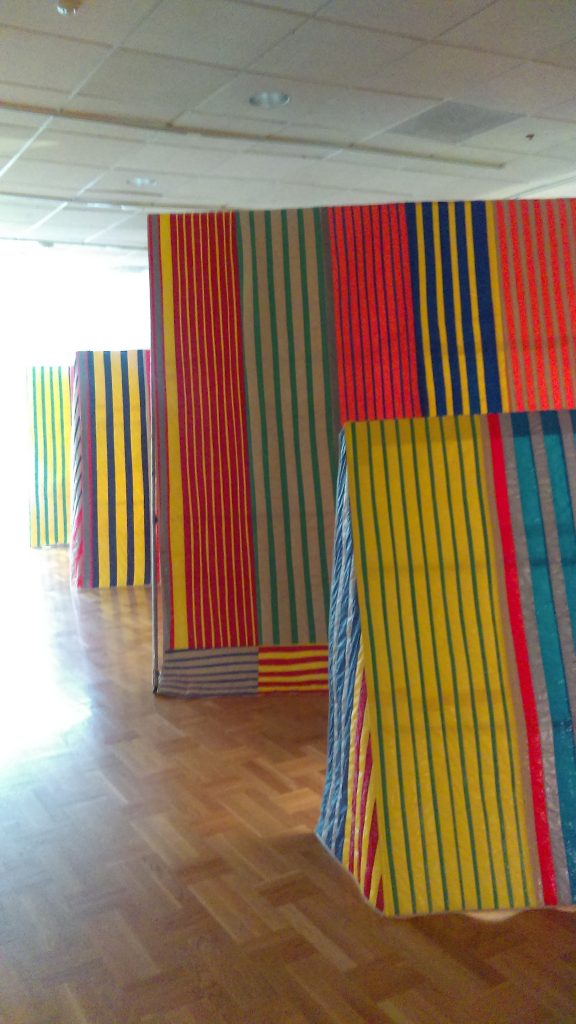 The exhibit provoked a mixed response from viewers. Student volunteer at the Littman gallery Andrew Jankowski remembers"The people that came here…learned a lot they were really open minded. On the internet people…were just freaking out about it. I think a lot [of the excitement] stemmed from a misunderstanding or…a personal bias against houseless people. A lot of the reactions were that we were enabling people [who] were problematic."  Dyer advocates viewers having a personal experience with her art, but she was also willing to respond to criticism of the show's message. Jankowski was surprised at her energy to respond, "Wynde actually got on the internet and responded to almost all of them. I couldn't believe it." Jankowski described this as typical of his experience working with Dyer. "It was a really interesting experience. She's really passionate about her work and this particular exhibition."
Dyer wasn't the only artist at work on this project, Dyer was implicit, saying without them she would have "crashed and burned" as this show took its turbulent journey from idea to inception in the gallery. At the last minute, a grant was denied, and they ran out of both time and space in Dyer's apartment. While Dyer doesn't normally consider herself a collaborative artist due to her self-described "intense" work ethic, on this particular project, she was grateful for help from like-minded individuals. Her primary collaborator was Evan Wellington, also affiliated with PSU. Wellington was responsible for the design and welding of the steel frames. Dyer also credited him with bringing a perfectionist attitude to the show.
While "Camp Here Tonight" is closed, the Littman Gallery has opened a new show, entitled 'Suspended Moment'. This exhibit is a life size replica of Fat Man, the bomb dropped on Nagasaki in 1945. The Gallery has a website and a newsletter to announce its upcoming shows.
The exhibit's intended political message doesn't end with its closing, as Dyer intends to continue what she calls activism through art. With the election of Chloe Eudaly as City Commissioner, Dyer and Eudaly intend to make a book of crowd-sourced wishes for the future of Portland. Viewers looking for more of Dyer's work, or to get involved in her advocacy program can find more on Instagram (username: wyndedyer) or on her website, www.wyndedyer.com. Dyer will be doing micro residencies with Hazelnut Grove this next year, bringing the houseless from their camps to do art. This art will be sold to give the houseless a source of income and a break from camp life. Their work is expected to be available in the fall of 2017.