Jazz enthusiasts of all ages took their seats and settled in at Winningstad Theater for the Ralph Peterson Triangular show on Feb. 17, 2016. The crowd's excitement animated the already stunning cherry red theater. The room felt small and intimate, and had a particular buzz to it. A blurred chatter moved throughout the audience, a result of restlessness as they waited for the musicians to appear on stage. Ralph Peterson, the lead musician and drummer, led his trio that night as just one of the many talents in the 2017 Portland Jazz Festival.
"If we don't keep promoting jazz to the younger generation, it will die," said Kevin Hoover, the Volunteer Coordinator for PDX Jazz. Other audience members, like Marge and James Curtis, a couple from Berkeley, California, had different things to to say. "I just enjoy— it makes me happy," said Marge. "It's everything—I dream jazz, I eat jazz, I play jazz," said James, who is a musician himself. Even while jazz held a different definition for everyone, one thing was the same—the music was a shared euphoria amongst the audience.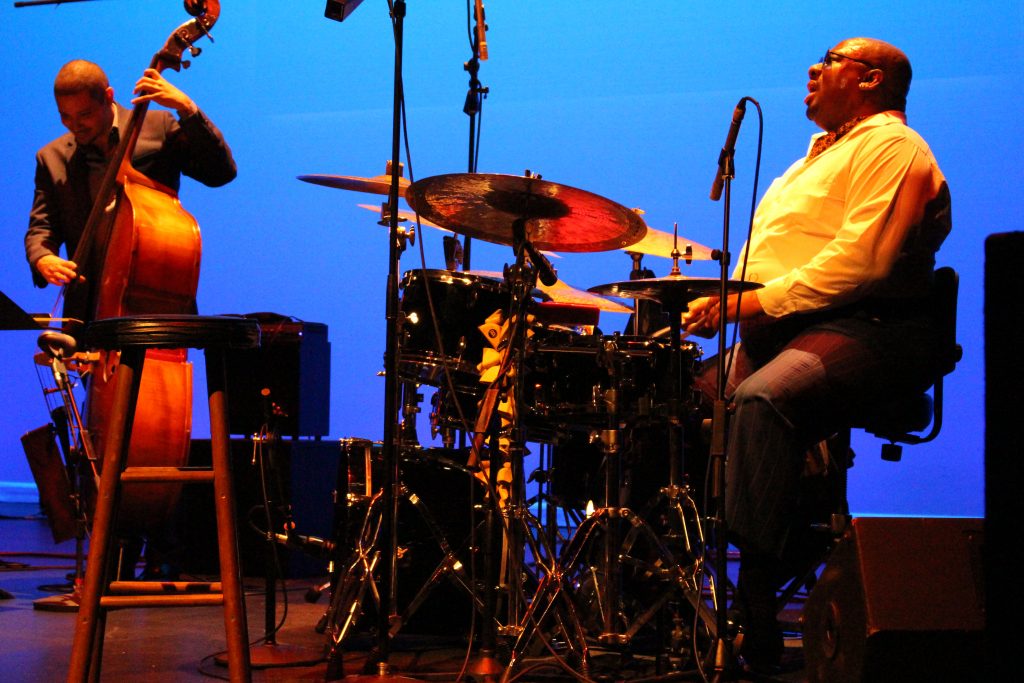 Ralph Peterson, whose namesake the Triangular takes its title after, quickly caught everyone's attention, as he suddenly appeared on stage in a bold pinstripe suit. He wore reflective round sunglasses, and instantly brightened the room with his gregarious introduction. He opened the night with a warm greeting, which was followed by spunky one-liners like, "Fasten your seat belts," "Put your trays in the upright position," and "We'll do the smoking," immediately making the audience erupt with giggles.
The whole audience paused with a brief yet noticeable silence until the clang and rhythm of Ralph's drumming filled every nook and cranny of the theater, creating warmth and depth within the at the PDX Jazz Festival Ralph Peterson Triangular room. The cello player and pianist, Luques and Zaccai Curtis were so effortless as their fingers moved like spider legs, delicately yet deliberately plucking away.
The three musicians simultaneously created different rhythms together, creating balance throughout their own improvisation; the perfect jazz balance of rebellion and deliberate strategy. Their shared looks and laughs on stage were undeniably contagious. One glance of the audience gave way to a room full of satisfied and reinvigorated people. Everyone seemed well-pleased. People were smiling, heads were nodding, and feet just couldn't stop tappin'.
PDX Jazz Festival ran from Feb 16. to Feb. 26.
Tickets and showtimes can be found pdxjazz.com.