The Standing Rock Sioux Tribe has made national headlines in their ongoing defense of native lands at the Standing Rock Indian Reservation in South Dakota. They're fighting to protect their reservation from the nearby construction of the Bakken, or Dakota Access Pipeline (DAPL) , currently being developed by Energy Transfer Partners (ETP), which was rerouted to within half a mile of the Sioux reservation.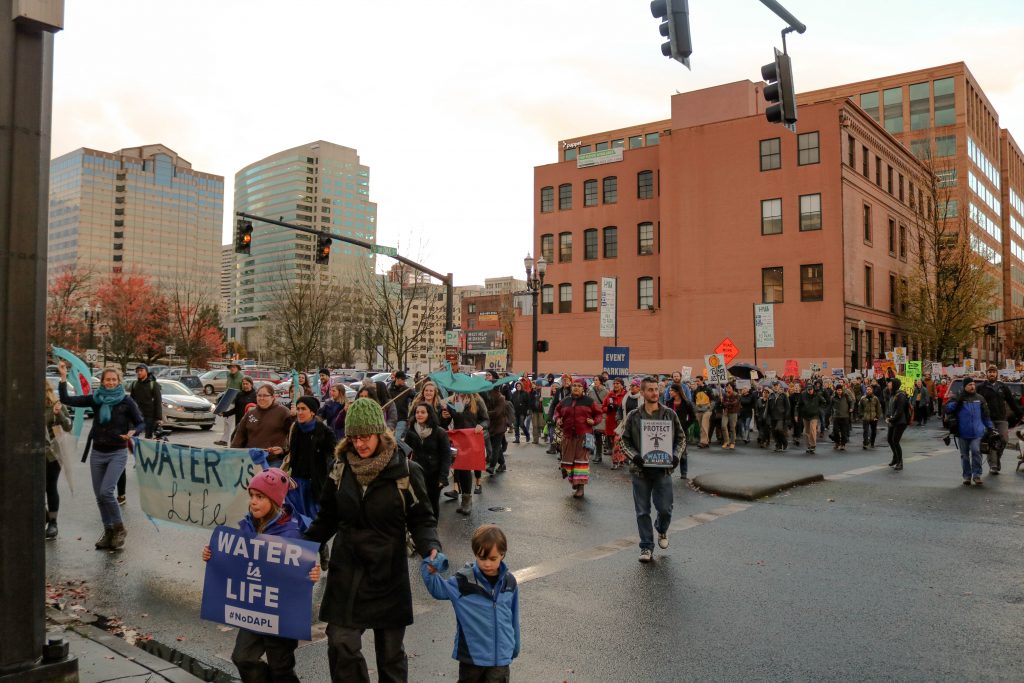 According to the developers, the 3.8 billion dollar and 1,172 mile long pipeline would transport approximately 500,000 barrels of crude oil per day from North Dakota to Illinois.
The tribe fears the pipeline will contaminate the Missouri river which provides water for thousands of the reservation's inhabitants as well as those living downstream.They have since filed a lawsuit against the U.S. Army Corps of Engineers. According to the tribe, the agency violated the National Historic Preservation Act when it issued final permits for the pipeline. The lawsuit is also joined by the Chenyenne River Sioux Tribe. The pipeline poses a threat to sacred sites within the reservation. By September, the standoff at Standing Rock had united over a hundred indigenous tribes in defense of the reservation, according to OPB. Pipeline developers and land defenders have clashed in a standoff that has become violent.
On Oct. 27, 2016 a militarized police raid took place. 141 arrests were made and police employed the use of tear gas, pepper spray, tazers, flahbang grenades, and rubber bullets. Protesters told the Los Angeles Times that arrested protesters were placed in what appeared to be dog kennels. The militarized police raid drew the attention of Amnesty International USA. AIUSA has sent a group of human rights observers to monitor the conduct of law enforcement in handling these protests.
Thousands have flocked to North Dakota in support of the Sioux Tribe as well as various media outlets. Among the media presence there was Democracy Now's Amy Goodman. Goodman was hit with a planned riot charge for her role in reporting an incident on Sept. 3 that involved a private security force using attack dogs on protesters. Judge John Grinsteiner rejected the case due to lack of evidence. Goodman appeared in a Facebook Live broadcast stating "I wasn't trespassing," she said. "I wasn't rioting. The Democracy Now team and I were there to report, to document what was happening on the ground. These charges are simply a threat to all journalists around the country: Do not come to North Dakota." said Goodman.
Morton County Sheriff's Department also filed misdemeanor charges against Green Party candidate presidential candidate Jill Stein and her vice presidential nominee Ajamu Baraka. The two were charged with criminal trespass and criminal mischief for their role in vandalizing a bulldozer. No arrests were made. Stein issued a statement urging police to direct their efforts more effectively. "I hope the North Dakota authorities press charges against the real vandalism taking place at the Standing Rock Sioux reservation: the bulldozing of sacred burial sites and the unleashing of vicious attack dogs," said Stein.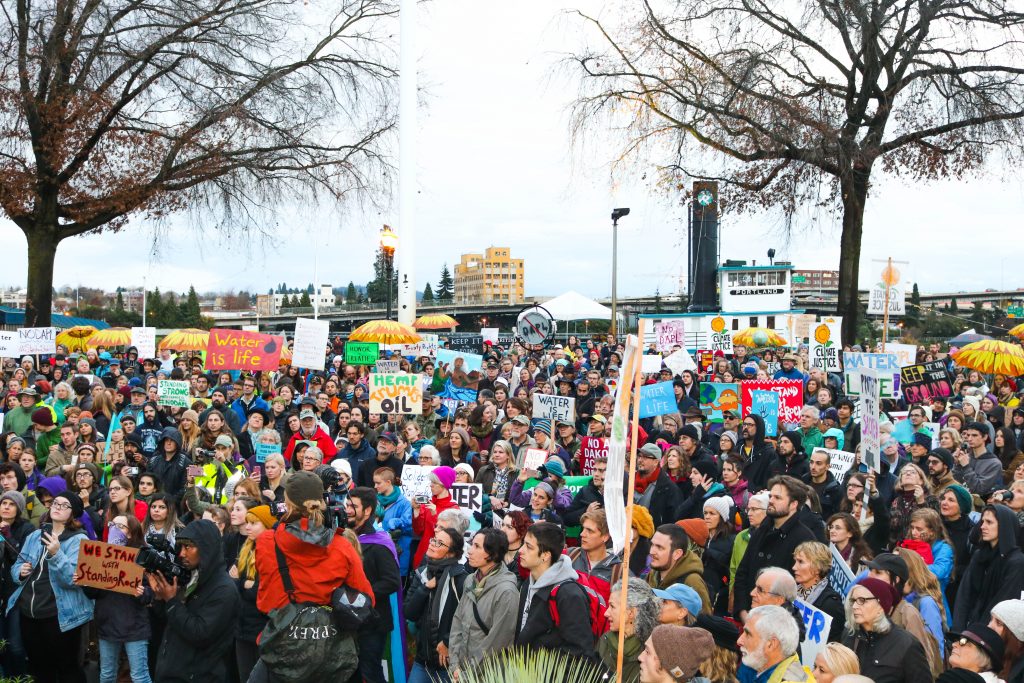 Portland, OR activist Antonio Zamora crossed paths with Stein at Standing Rock. Zamora, a Portland Community College student and organizer at the local solidarity network, Ragtags Against Doom, spoke about his experience at Standing Rock.
"It's an amazing experience to be among people who have been fighting 525 years of resistance because you're witnessing organic resilience," said Zamora. "Every time I go to a protest, or a solidarity action, or water action, I'm among people who are resilient and I feel so incredibly grateful to be among them," Zamora said. What he admired most about the indigenous people is their resilient nature dating back to the Indian Removal Act of 1830.
A national day of action was called for on Nov. 15 named #NoDAPL,in honor of women who have been the victim of violence and kidnapping in North Dakota's oil fields.
Scores of Portlanders joined in solidarity with Standing Rock outside the Army Corps of Engineers Headquarters. The day of action was meant to demand that the federal government and the Army Corps order a full environmental review of the Dakota Access Pipeline, deny all remaining DAPL permits, and sign and release a statement of solidarity with the Sioux Nation and the Water Protectors at Standing Rock.
Portland State students rallied on the park blocks before joining the large crowd on the waterfront. The event was organized by various organizations including Idle No More Washington, 350 PDX, Greenpeace PNW, All African People's Revolutionary Party – Oregon, Showing Up for Racial Justice (SURJ), In Other Words Feminist Community Center, and more.
Among the speakers who addressed the crowd was 18 year old Aspen, a member of Mass Action Rose City. "One of the things about Portland is that a lot of the natives are not local, many of the natives that I meet are from everywhere in the world," Aspen said, "I think it really demonstrates the fact that our struggles and our history have brought us together."
Over 300 cities across the country and abroad participated in the #NoDAPL day of action.
On the same day that over 150 water protector were arrested, here in Portland, Ammon and Ryan Bundy, along with five of their followers, were acquitted by a federal jury. They were charged with conspiracy and weapons charges for their 41-day occupation of the Malheur National Wildlife Refuge. The occupation not only cost the federal government $4 million but also angered the Paiute Tribe which has treaty rights to the land the militia occupied.
According to the tribe, the armed militia mishandled sacred artifacts and bulldozed sacred sites. The armed militia members were entirely composed of white men. Their illegal occupation was not met with the same militarized police force or violence that the water protectors experienced. Cody Hall a member of the Cheyenne River Sioux tribe and spokesman for the water protectors told OPB, "How is it that people who were seen on national media with guns having a standoff with police officials were acquitted … and we're being treated like we're terrorists?" said Hall.
Energy Transfer Partners has sinced filed documents in a federal court to "end the administration's political interference in the Dakota Access Pipeline review process." The company  claims they already have the right to build the pipeline without permits from the Army Corps of Engineers. Developers of the pipeline stated that the company will not consider rerouting the pipeline.
With president-elect Donald Trump taking office in January, construction of the pipeline is likely to continue. Trumps 2016 federal disclosure forms revealed that he owned between $15,000 and $50,000 in stock in ETP. He has since sold off his shares but has been the recipient of a generous donation from chief executive Kelcy Warren. Warren donated $100,000 to the Trump Victory Fund in June. Trump also has investments in other fossil fuel companies including Chevron, Shell, and Exxon. Warren also told NBC news "I'm 100 percent sure that the pipeline will be approved by a Trump administration" said Warren. Trump has stated that his "America First" energy plan would involve removing "all barriers to responsible energy production".