"STAY HOME SAVE LIVES." You may have seen these signs around Portland in the recent weeks of the COVID epidemic. 
These signs are a bit unsettling. Driving down Highway 26, I felt guilty passing underneath these words—as if I was harming others by not being home at that very moment. With 103 deaths and climbing due to COVID-19 in the state of Oregon and over 800 in Washington at the time of this publication, such a fear is not baseless. In addition, violating the stay at home orders issued by Governor Kate Brown will net a $1,250 fine. But what exactly are these parameters we should follow in order to stay safe and out of trouble? 
Subsection D under the first item of Governor Kate Brown's executive order states the following: "Individuals may go outside for outside recreational activities (walking, hiking, etc.), but must limit those activities to non-contact, and are prohibited from engaging in outdoor activities where it is not possible to maintain appropriate social distancing (six feet or more between individuals)."
Turns out, it's fine to go outside for recreational activities as long as you're able to maintain a six-foot distance from anyone else—and during this period of quarantine it's important that we all try to stay active. A recent study published in the Asian Journal of Sports Medicine cites evidence showing that exercise has positive effects on immune system health against respiratory infection. Therefore, the authors recommend that healthy asymptomatic people exercise in private environments or outdoors while paying special attention to social distancing in order to combat the COVID-19 virus. Not only that, but it's also vital for mental health to get out and have some fun now and then instead of going stir-crazy.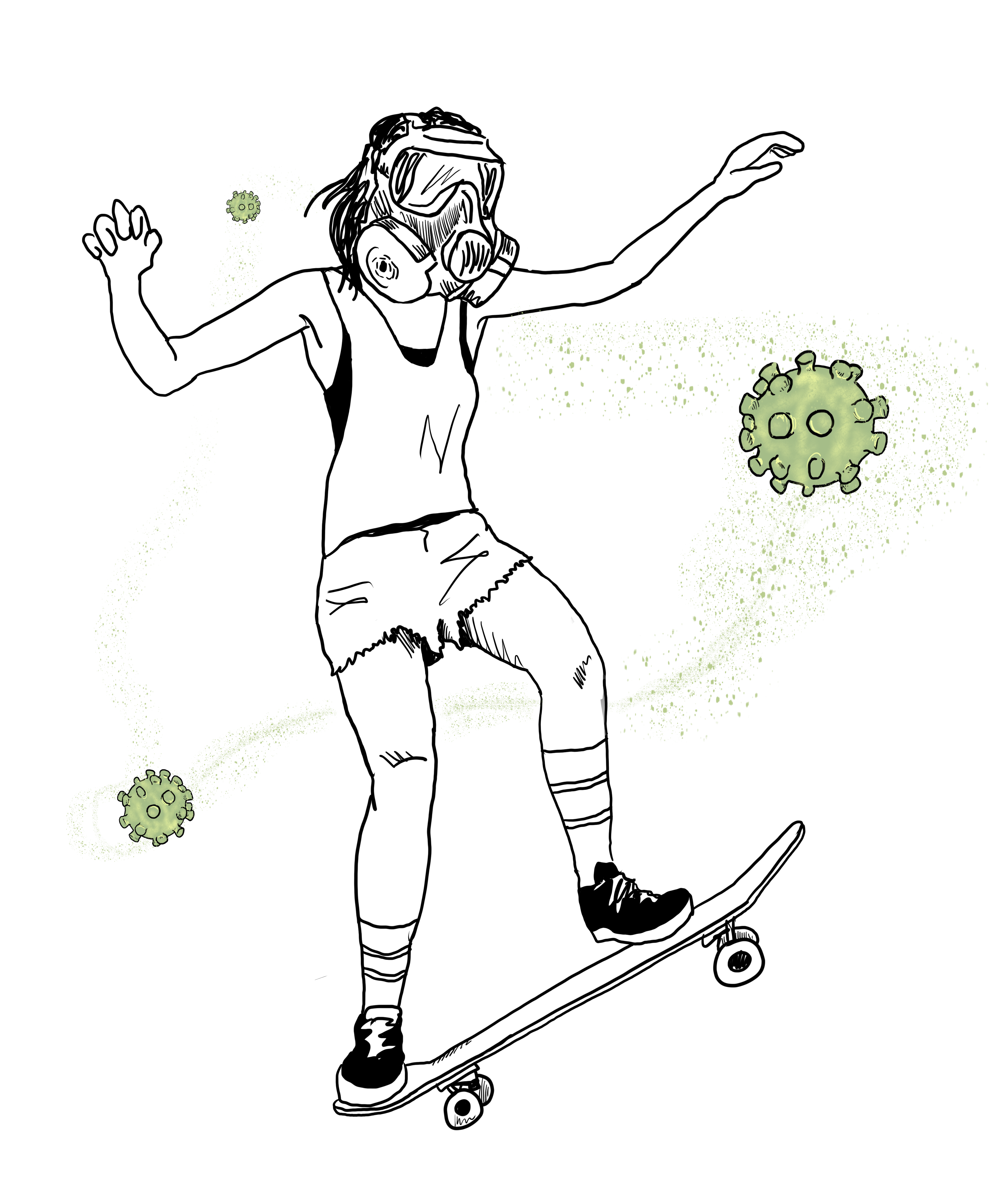 illustrations by Josh Gates
Am I the only one who's put on some weight over the quarantine? I feel like I've put on close to 19 pounds; binge watching Everybody Hates Chris and eating Nutella sandwiches has not been the most healthy lifestyle. If you're like me and you've found yourself sitting at home stuffing your face while waiting for this whole crisis to blow over, I recommend finding some fun physical hobby that you can pursue safely outside before you morph into an angry, lazy hermit person.  
I've been trying to stay active by skateboarding every day. Although the parks are closed, I've been taking the opportunity to skate downtown where it's normally too crowded or too disruptive to skate during the operating hours of local businesses. Although skaters often get a bad rap, skateboarding is a creative physical activity that, with the right equipment and proper safety practices, can be enjoyed by all who are capable—even during this health epidemic. Whether you're trying to kickflip into a krooked grind or if you've never skated and you just want to cruise down the street, there's something magical to be enjoyed in unlocking the secrets behind this plank of wood and four wheels. It can also be one hell of a workout. By maintaining a safe distance from others, carrying hand sanitizer, and wearing a mask, elbow, and knee pads, skateboarders can minimize the risk of spreading and contracting bacteria while still having fun and staying active.
Cal Skate Skateboards, "the oldest skateshop on the planet," is located in Chinatown, just down the street from the PSU campus, and continues to serve the local Portland skate scene while enforcing social distancing. They just celebrated their 44th year of business last month and released a new shop deck, "Cat Hands by Drew," with an awesome graphic from a local Portland artist, available for just $40.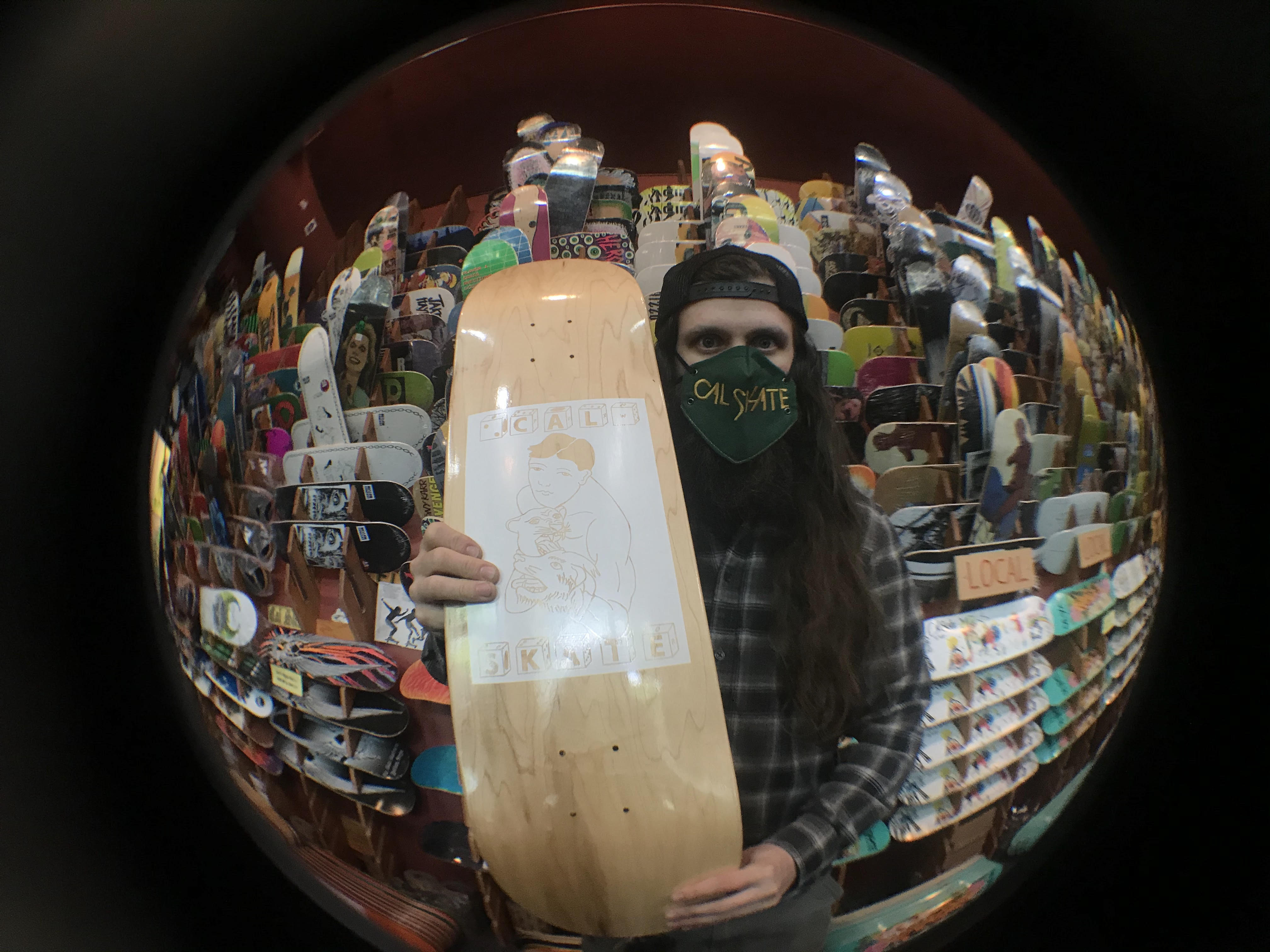 photograph by Andrew Porter
While it's smart to practice social distancing and order products online, it is also important to support local retail businesses who, along with Portland restaurants, are suffering during this pandemic. Cal Skate in particular has a detailed history of contributing to Portland's skate scene, so you know that when you shop at Cal Skate your money is coming back to benefit the community. 
Recently, I visited Cal Skate to purchase a new deck and to see how they were handling business in the current situation. I was greeted as usual with a friendly attitude from familiar faces, now donning monogrammed "Cal Skate" face masks and enforcing the 6-feet rule. Posted at the doors are signs instructing customers on proper safety practices within the store as well as colored tape indicating safe standing distances around the counter. Despite the general uneasiness of going outside, Cal Skate remains a chill place to hang out without having to worry much about others getting too close. The store has a spacious interior; the walls are lined with local art, clothing, and other merchandise as well as a museum of antique skateboards and some impressive thrones made out of recycled skateboard decks that you can relax on while waiting for other customers.
One of the most unique things about skateboarding is the sense of community. I love going to a spot and seeing my friends or skating with people I've never met before. It's awesome to share a passion with other people—to have fun together and push each other to progress or to just talk about who-did-what-where in the latest video part or issue of Thrasher. Cal Skate is a shining example of how the skateboarding community continues to thrive amid all the chaos of our current quarantine.
Please, do not undermine the state of national security and do your part to follow the executive orders of self-isolation. At the same time, don't be afraid to get out and have some fun—as long as you're careful and keep a safe distance from others. If you have extra time on your hands, skateboarding is a thrilling hobby—and with Olympic Skateboarding around the corner in July, right now is an awesome time to get involved. Just make sure to cover those hands with some sanitizer in order to keep your ollies looking clean and healthy.