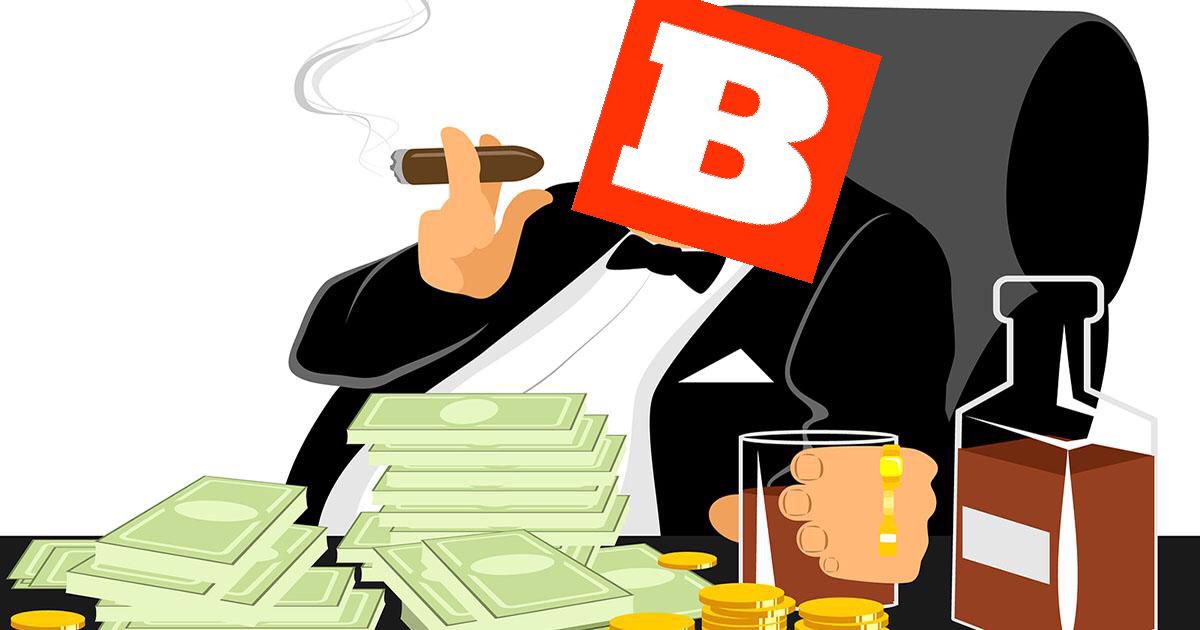 On September 29th, six days after President Donald J. Trump called kneeling NFL players "sons of bitches" at a rally in Huntsville, Alabama, visitors to Breitbart News were greeted with a large pop-up ad. The ad featured a black T-shirt with the word "STAND" across the chest. The letters themselves were colored red, white, and blue, patterned in the stars and stripes of the American flag.  The T-shirt was imposed over black, kneeling New England Patriots, heads bowed, arms linked, protesting during a rendition of the Star-Spangled Banner. A caption in the bottom right corner read:
ARE YOU DRESSED FOR THE WEEKEND?
A 'buy now' button directed to Breitbart's online store, where the shirt remains available for purchase.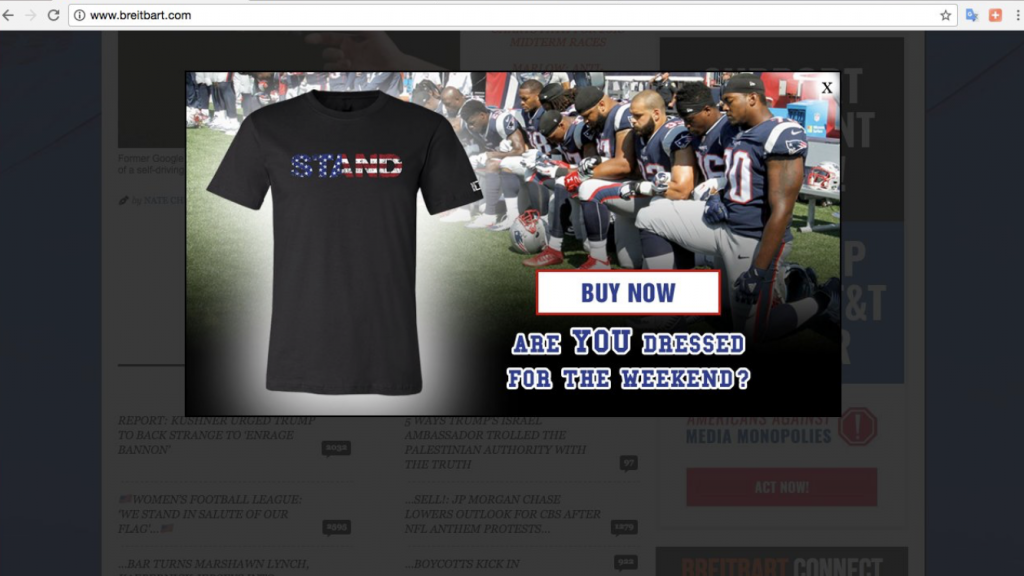 I laughed when I first saw the ad. But manic disbelief gave way to awe—the racism on display was really first class. Magnificent. Brazen. Sophisticated, yet surreptitious enough to feign ignorance.
I've been to many football games in my life. "Please rise for the national anthem," the announcer always asked—a request implicitly recognizing my personal autonomy, respecting my liberty of body. But "STAND" offers no such respect.
"STAND"' is a command. Its language authoritative, tone dominant. Contextually, its spirit isn't far from a Jim Crow-era "Stand up, boy." Oblivious to the irony in forcing one to stand for a flag representing freedom, it implies thee, adorned in the garment of 100 percent ring spun cotton, is bestowed power to subjugate others' bodies, with a moral might literally colored in patriotism.
Is this not madness? In what world does alt-right news swag give Chet, in his cheesehead hat and flip-flops, superpower to tell a 6 foot 4 inch, 250 pound, multi-millionaire linebacker what to do? Only a world in which Chet is white and said linebacker is black.
As Vann R. Newkirk II writes for The Atlantic, "The language of white supremacy has become increasingly central to understanding the argument over the broad currents of Donald Trump's ascendancy."  The rhetoric employed by Trump and Breitbart is purposeful—it aims to canonize one group while demonizing the other, covertly conjuring sentiments of social orders past (presumably at least back to when America was great). Critical-race theorist, Frances Lee Ansle, quoted from Newkirk, writes "By 'white supremacy' [we] do not mean to allude only to the self-conscious racism of white supremacist hate groups. [We] refer instead to a political, economic and cultural system in which whites overwhelmingly control power and material resources, conscious and unconscious ideas of white superiority and entitlement are widespread, and relations of white dominance and non-white subordination are daily reenacted across a broad array of institutions and social settings."
In a September interview with 60 Minutes, Steve Bannon, co-founder of Breitbart and Trump's former Chief Strategist, told Charlie Rose, "When the left is in that cul-de-sac of identity politics, we're winning." But Bannon's being disingenuous, as if the right never circles Identity Politics Court. As if Trump asking, "Wouldn't you love to see one of these N.F.L. owners, when somebody disrespects our flag, to say, 'Get that son of a bitch off the field right now, [get him] out, he's fired!'" in Huntsville isn't identity politics. "Our flag." Not "their flag." As if the nation's flag doesn't also belong to the NFL players — "those people."
What Bannon's truly getting at is whenever they can remind white people that they're white people, they're "winning." White supremacy, like a Chet magically entitled to tell anyone anything, is fantasy. But it's a fantasy that must be believed if Trump, Bannon, and Co. wish to continue "winning." So Trump picks a fight with the NFL, hijacking an inherently racial protest, transforming it into a juvenile game of 'us' versus 'them.' Nevermind Colin Kaepernick, the former San Francisco 49ers quarterback whose initial knee led us to our now, said, "I am not going to stand up to show pride in a flag for a country that oppresses black people and people of color." No, #takeaknee is about disrespecting the anthem.
Black people were killed by police. Professional athletes raised awareness. And now Breibart is indirectly profiting off said slain black bodies while simultaneously casting black athletes as villains. A divide and conquer strategy buttresses this dynamic. America's participants are made to play different sports: one backstrokes in the mythologized pools of lands of the free, cowboys and Indians, cities upon hills, and American exceptionalism. The other has its back against the ropes, busy dodging uppercuts of mass incarceration, voter suppression, income inequality, and institutionalized racism. This is how you necessitate the conditions in which a populous hears symbolic disrespect from cries of "please stop shooting us." As long as there's buyers — bellies starved for the existential, socio-economic and political advantages white supremacy offers — Trump and Breitbart will keep MAGA hats and "STAND" t-shirts fully stocked. Clothing becomes armor, telling the world what team you're on and just how deep your squad runs.
The status quo is dependant upon miscommunication and spreading make-believe. Only truth, a confrontation of issues plaguing the country since its original sin, will de-polarize. But the truth is not comfortable. In his "Dark Days", cribbed again from Newkirk, James Baldwin writes, "To be black [is] to confront, and to be forced to alter, a condition forged in history. To be white [is] to be forced to digest a delusion called white supremacy. Indeed, without confronting the history that has either given white people an identity or divested them of it, it is hardly possible for anyone who thinks of himself as white to know what a black person is talking about at all."
Trump and Breitbart don't want to confront. They want to sell t-shirts.
This article originally appeared in the print edition of our November 2017, issue.