When I was first told about Outrage, I thought I had misheard my friend—"wait, Outrage eSports Bar? How does that even work?" It was the first I'd heard of somewhere you could watch video game tournaments and play games for free at a bar. In reality, it's the exact same concept as a sports bar, except designed around video games—and the folks at Outrage have made it work. 
When you first walk in, it's immediately clear that this is a place for fellow nerds and geeks. 
Every time I bring a friend to Outrage for the first time they always have the same look of wonder and excitement—the same look I had when my friend brought me. It's a look that says you can't believe somewhere like this exists, let alone in your city. This is partly due to the myriad of nerd culture posters and figurines that line the walls and back of the bar. If there's a video game franchise you enjoy, it's represented in some way at Outrage.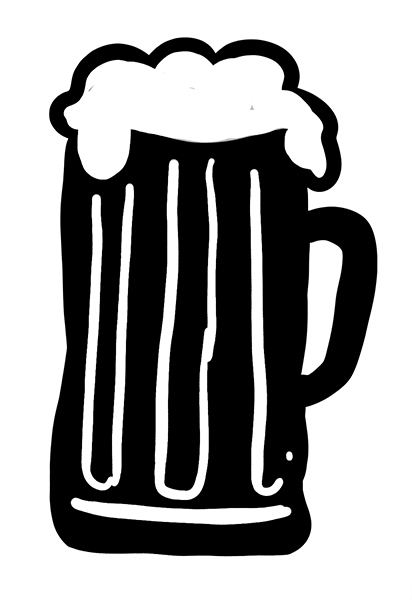 illustrations by Greer Siegel
The back wall is lined with twelve gaming PCs and is almost constantly occupied by people enjoying themselves in team-based games. Behind that is an enormous projector showing various video game tournaments, popular Twitch streamers, and, of course, the occasional Bob Ross. When games like Overwatch are in season, they broadcast the matches and have viewing parties. People wear jerseys of their favorite eSports teams. There's team rivalry. These things are simple and well known to most fans of traditional sports, but for people that have never been a part of sports culture, it creates something magical. 
I asked Jake Cooper, a good friend of mine and a regular patron at Outrage about what makes it such a special place. "The second you walk in, it's very clear that it's a respected shared space," Cooper said. "With that level of respect comes comfort." And that's what seems to be at the heart of Outrage—a place where nerds and geeks like us can feel comfortable. Ideas like this have been done before, but the distinctive factor at Outrage is respect. It's something that's created by the staff and patrons alike. Sure, having nine gaming consoles and twelve gaming PCs is a reason to go, but as Cooper added later in our conversation, "The shared passion and interest is what makes it feel like a community."Since that first visit, I've returned to Outrage so many times in the past year that it really does feel like a second home, and I know many share that feeling. Because of Outrage I've made tons of friends and got my ass kicked at Smash Bros. more times than I can count. I never knew why sports bars are so popular, but now I'm starting to understand.