If you were on Tumblr in 2011–2013, you may recall the popularity of a specific cadre of pop artists. All touting a dark, angsty aesthetic that translated well into glitchy gifs featuring pretty girls and lyrics like "I live my life inside a dream," these artists served as the soundtrack to repressed teens the world over. Male-fronted bands like The 1975 or Arctic Monkeys certainly fell into this category, but women were well-represented in this subculture too. Lana Del Rey, Marina and the Diamonds (now simply Marina), and Charli XCX were important figureheads of the era. This is why, on the weekend of October 3–7, I felt the need to revisit this particular period of internet history. Coincidentally, all three women mentioned came to Portland in the span of five days. The growth they've achieved since 2013 is staggering and reflects the changes their fanbases have gone through over half a decade as well.
Lana Del Rey at the Moda, October 3
The weekend kicked off with Lana Del Rey at the Moda Center in support of her recent album Norman Fucking Rockwell! It's not only the biggest venue she's played in Portland, but arguably her most triumphant victory lap so far in her career. NFR! has been better received than any other album in her career, acting as a sort of synthesis of many of the ideas she's played with throughout her previous work. The feelings of yearning and doomed romance present in Born to Die as well as the hope of Lust for Life intermingle complexly throughout the album. And yet, Del Rey never loses her sense of humor and penchant for American pop culture. Famous for the lyric "My pussy tastes like Pepsi Cola," she continues this theme in her writing with the opening line, "Goddamn, man-child / You fucked me so good that I almost said I love you," and with shoutouts to the Eagles and Sublime. 
The large size of the Moda allowed Lana to showcase all of her best qualities. Above all, Del Rey is a storyteller. Having huge screens on which to project stunning visuals to go along with each song added an immersive element to the set that may not have been possible in a smaller venue. Her two dancers greatly enhanced the experience as well, providing a sort of cabaret feeling to the event. Overall, though, the focus was on Del Rey. The love in the room for her as not only an artist, but as an icon of these alternate feelings of hope and desperation that she has come to represent. The audience skewed college-aged; they've grown up with Del Rey and have used her music to articulate their feelings to themselves. Lana has come a long way since Born to Die. Her love songs are less apocalyptic and more contemplative, her expressions of sadness less wallowing and more focused on a hopeful future; something that, as a longtime fan, I can connect to my own feelings regarding depression and mental illness. Best of all, Lana seems aware of the fact that she's become more of a hopeful figure than one of sadness. Throughout the show, she joked with her audience about losing her vape pen and took gifts from them whenever possible. More than anything, I came out of it less nostalgic and more excited about whatever she'll do next. 
Charli XCX at the Roseland, October 6
Charli XCX has always been my personal favorite of these three artists. Admittedly, she started off the roughest. Mostly circulating in mixtape format on Soundcloud, moaning over other people's tracks, Charli wasn't polished or mature; she was just out here to have fun. Her first album, True Romance, played knowingly on the Tumblr pastel goth aesthetic. She knew exactly what she was doing and that eventually propelled her into mainstream popularity with "Boom Clap," "Fancy" with Iggy Azalea, and "I Love It" with Icona Pop. But that isn't what her fanbase has come to love her for. Since her string of big hits, she's mostly worked with experimental producers like SOPHIE and A.G. Cook to make coked-out hyper-pop. Her most recent release, the long-awaited album Charli, utilizes not only this avant-pop sort of production but some of her best collaborators like Troye Sivan, Brooke Candy, and Tommy Cash. It's my favorite album of the year, only making more clear that Charli XCX is the most underrated popstar of our time. 
From this description, it should be no surprise that Charli's shows are more akin to a rave than an organized event at an official venue. Fans showed up in drag and bright neon, sneaking in poppers and glitter to share with one another. Like Lana, Charli is close with her listeners. The first fifty to show up in line got to meet her (I was one of them, it was the best moment of my life) and get in early to buy merch first. The show itself was high energy, only slowing down for trippy ballads "Official" and "White Mercedes." Charli is much different than True Romance, full of bravado and wild production flourishes. This is a unique statement coming from an artist with only moderate success, but one that her fans greatly appreciate. Charli may not have become the big pop star that she's admitted she'd wanted to be at one stage of her career, just like many of us in our twenties have had to temper our own expectations about what our lives were going to be like. But fuck it, not only are we going to have a good time, we're going to feel good about who we've become. Watching Charli come into her own has paralleled my own journey and looking around myself at the show, it seemed that I wasn't the only one.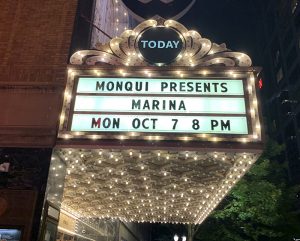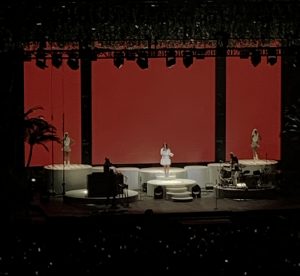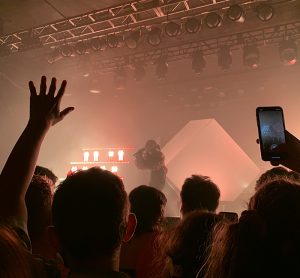 Marina at the Arlene Schnitzer Concert Hall, October 7
As the weekend wound down, it seemed only fitting that Marina should close it out. Marina was debatably the most popular artist on Tumblr in my early high school years. Her sophomore album, Electra Heart, seemed tailored to exactly the sort of feelings I was having at the time. It explores and negotiates gender in a way that pop wasn't typically granted up to that point in time. As a young woman, there is immense pressure to present in ways that are hyper-feminine or hyper-sexualized and Marina took these expectations to task in songs like "Bubblegum Bitch" and "Sex Yeah." It was pop, but it was articulate and cutting, campy and honest all at once. It made me, and countless others, a Marina fan for life. Yes, Froot was cute and Love + Fear is thematically impressive, but we all know Electra Heart is That Bitch.
This is why, more so than at Charli and Lana's shows, I felt myself embody my inner teenager when I entered the Schnitzer on October 7. Marina seemed aware of the fact that we were there to hear "Primadonna," and I'm grateful for that. Electra Heart featured almost as consistently as her newest material. The respect with which she shows that older material is in line with how we should all view our younger selves. Yes, we were pretty dramatic at times and, hopefully, we aren't struggling with the same issues as we did when we were fourteen. However, that doesn't mean that who we were, or the validity of the feelings we had at that time, deserves any less respect than who we are now. Marina herself appears much healthier than she was then: She was positively glowing during the show, hitting every note with a smile on her face. It felt rather full circle; if she can make it past whatever dark place she was in when she wrote "Teen Idle," then so can any of us. 
Reflecting upon these shows, as well as the period of my life in which I first became acquainted with them, I feel as if I've reached a new chapter in my life, perhaps marked by this Pop Weekend 2019. I've grown up with these women, we've become better versions of ourselves, constantly evolving and negotiating who we want to be in this world. They've done a beautiful job of this and I can only hope to do the same. I saw many of the same people over and over at these shows; people my age, mostly women or gay men, all of us connecting with these artists as beacons of hope in some way or another. All three women are highly expressive, never undermining their struggles, their dreams, their sexuality, or their artistic visions. They're a bit stranger than your typical pop artists, not as willing to give in to expectations of who they should be within the pop landscape. They share a fanbase because of these commonalities, all of us desiring better for ourselves in the same way they see for themselves. This string of shows has highlighted the growth we've all achieved since 2011 and I know we can only go up from here.
Illustration by Ciaran Dillon