The death penalty is an inhumane form of punishment, which wreaks havoc on the lives of  inmates, their families, and the surrounding communities. It should be abolished for the mental and physical suffering it has caused.
The death penalty is currently practiced in 28 states, in addition to the United States government and the U.S. military. There are multiple forms of execution being used, but lethal injection is the primary method. In 2019, 22 inmates from death row were executed, 91% by lethal injection and 9% by electrocution.
There are many instances in which inmates on death row have been exonerated, sometimes years after their initial conviction. With the evidence of past mistakes on the behalf of the justice department, there is reasonable doubt regarding the true guilt (and/or level of violence of the crime involved) of many inmates sentenced to death row. Between the years 2000–2019, 84 inmates on death row were exonerated. The years between their convictions and exonerations ranged from 3–43 years. Up to 43 years on death row for a crime they didn't commit, and then forced to live with that label for the rest of their lives. Those 84 inmates were only the ones who were able to prove their innocence and get a lawyer to file paperwork on their behalf. It is hard to tell just how many people have been wrongly convicted and have spent years on death row or have died at the hands of the justice system.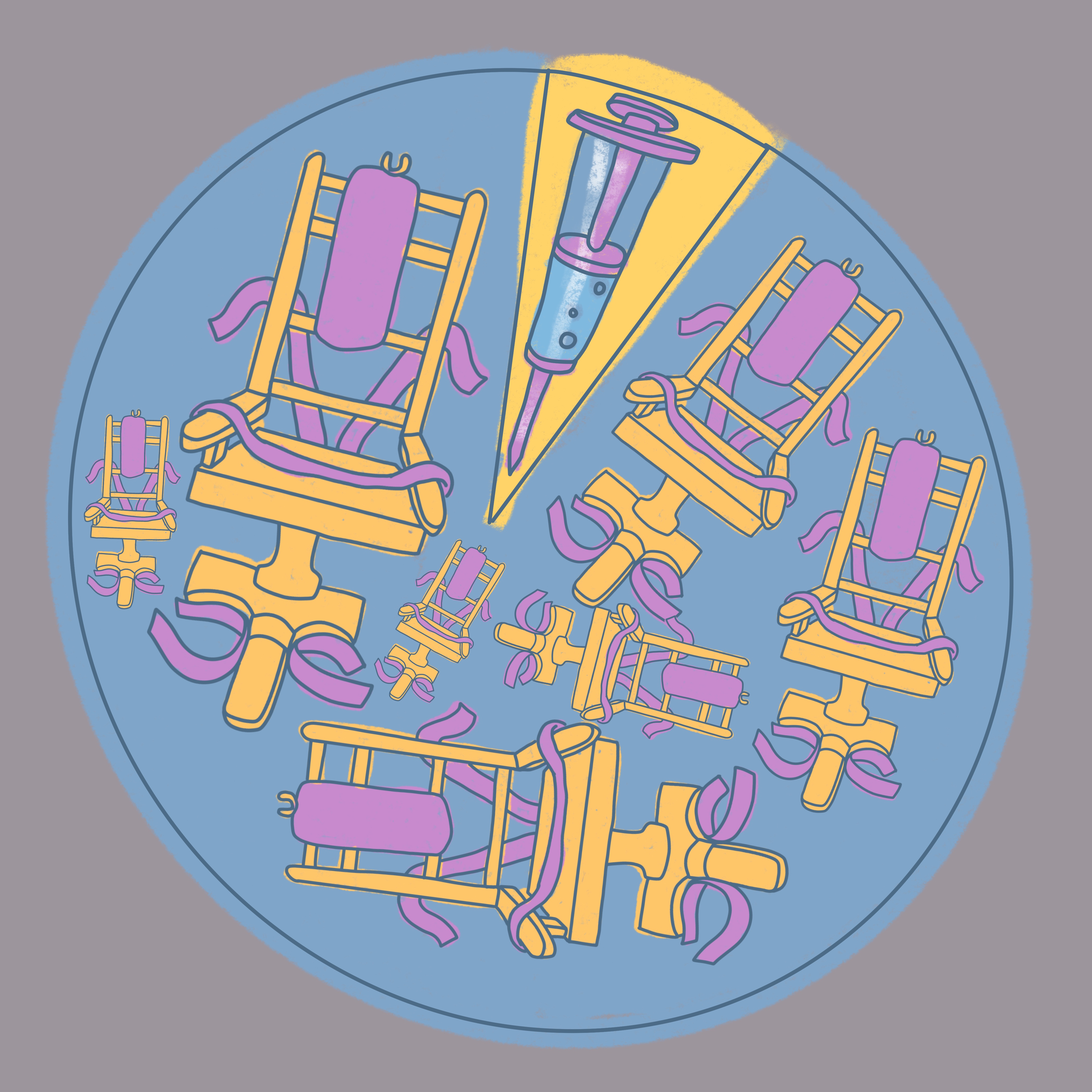 illustrations by Kami Gould
I believe everyone deserves the right to health, happiness, and, as the constitution puts it in the Eighth Amendment, freedom from cruel and unusual punishments. Nothing about the death penalty as a form of punishment screams compassion or common decency, and therefore is a direct violation of the Eighth Amendment of the United States Constitution. There are many moving parts that can go awry during an execution. According to the Death Penalty Information Center, about 3% of executions from 1890–2010 were mishandled. A botched execution means that the inmate suffers for a longer period of time, at a greater level of pain, and all with a captive audience in attendance.
My opposition is about more than the experiences of the inmates on death row. I believe that the death penalty is an immoral practice. The justice system takes a person they believe to have committed a crime and sends them to trial. The accused is then judged by a jury of their peers, but the sentence can be overturned by a judge in a "judicial override." In previous cases—such as the sentencing of Walter McMillian in 1988—juries have voted to sentence the accused to life in prison, only to have the judge overturn their decision and sentence the accused to death row instead. 
It is more common for people who have been accused of murder to receive the death penalty than people who have been accused of other crimes. The death penalty is issued to convicted murderers as "justice," but I believe that sounds more like vengeance. It should not be up to humans to decide who lives, who dies, and why. That makes one no better than the murderer they are seeking justice and closure from. The death penalty is unconstitutional, and should be abolished in favor of human life.