Paramore holds a special place for me. Being a pre-teen girl in the late aughts, Paramore was my ultimate wannabe-emo soundtrack. From rocking out to "Misery Business" to using "Brick by Boring Brick" to process feelings of growing up, Hayley Williams has helped me feel seen for well over a decade now. Her first solo record, Petals for Armor, is no different. 
This isn't a perfect record. Williams wears her references on her sleeve, resulting in a record that can often sound more like post–by-way-of-A Moon Shaped Pool than anything approaching an original signature. This is most evident in "Sudden Desire," where the vocal take off in the chorus is directly reminiscent of the "Allt sem hann sér"s from Björk's "Joga." For those who love those artists on their own, this may not be a bad thing. It certainly sounds good (her references are, after all, iconic for a reason), but it may have been more interesting to see Williams craft out something that matches the personality of her lyrics and vocals. 
That being said, the lyrics and thematic content on the record make up for what the instrumental lacks. If you've been a fan of Paramore and Hayley since your middle school years, this is the update you've been waiting for. In the aftermath of her divorce to New Found Glory guitarist Chad Gilbert, Williams has been open about her struggles processing the blow. "I felt like such a failure," she told iHeart Radio in 2019. "I felt embarrassed because I knew I shouldn't have gone through with the marriage."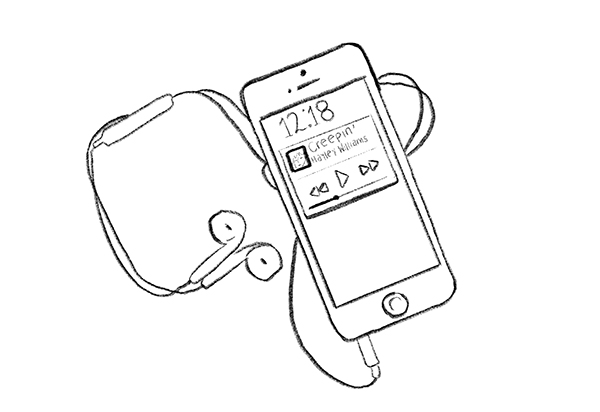 illustrations by Greer Siegel
Petals for Armor is about this coming-to-terms period in her life. It spans multiple stages of grief, starting with the palpable anger in lead single "Simmer" and finally moving to acceptance by album closer "Crystal Clear." The best tracks on the record are those that are the most confessional, showcasing Williams's skills as a storyteller in both her writing and vocal talents. "Dead Horse" and "Why We Ever" are album standouts, being not only the closest tracks to finding an original Williams sound, but in their brutal honesty. In these tracks, Williams cops to her own negative past behaviors, admitting to adultery and emotional disconnection.
This isn't your typical break up record. Though there are tracks about holding resentment toward her ex (Hayley is human, after all), the ultimate message is that of self-worth, about seeing your grief and trauma as lessons to be learned from. In "Cinnamon," Williams sings about a typical day living on her own: "Eat my breakfast in the nude / Lemon water, living room / Home is where I'm feminine / Smells like citrus and cinnamon." It's indicative of a Haley Williams who is finally finding peace in her own company, in large part because of what she's been through. It may not be the most original record of the year, but it may be the most cathartic for those who need it, including Williams herself.